Arconic Architectural Products' opening statement says it was 'responsibility of others' to use product or not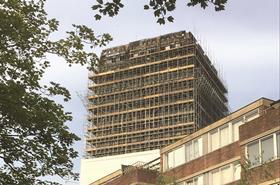 Any construction professional should have known the cladding used on Grenfell Tower was combustible, the manufacturer has told the public inquiry into last June's fire.
In an opening statement published on the inquiry's website, Arconic Architectural Products said the aluminium composite material (ACM) cladding used was obviously flammable.
It said the product, ACM PE, has been on the market for 15 years and comprises a polyethylene core between outer sheets of aluminium.
Its statement said: "It would have been obvious to anyone professionally involved in the construction of a building that, by reason of the polyethylene core, this product was not of limited combustibility."
The manufacturer said its role "was essentially to supply a product which required fabrication before installation".
It added: "It was the responsibility of others to decide whether or not to choose that product; how to specify and utilise that product in the construction or refurbishment of Grenfell Tower; how to carry out the detailed design; how to fabricate the product; how to fit it to the external surface of the tower; and, in every other respect, how to carry out the refurbishment."
Arconic said: "We submit that the evidence does not justify the conclusion that the ACM PE cladding panels supplied by the company were anything other than, at most, a contributing feature to the fire. The panels did not render inevitable the catastrophe which ensued."
The submission said it followed that "if a systemic fire engineering assessment had been carried out, it would have identified all the numerous various factors listed by the inquiry experts as creating a significant fire risk in themselves and when utilised in combination with the ACM PE panels".
Arconic said this would have either led to the elimination of these factors or a decision to use a different cladding system.