Counsel for Fire Officers Association suggests staircase was not designed to be safe in a fire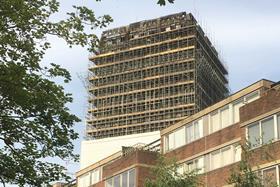 Grenfell Tower was not designed for a mass evacuation, according to the Fire Officers Association.
A written opening statement criticising the design of the stairs and lobby from the association's counsel Louis Browne QC, has been published on the inquiry's website.
He said rescue attempts had been seriously compromised by the design of the stairs.
Browne wrote: "The only way to undertake efforts to suppress the fire and rescue people trapped in Grenfell Tower was through the single protected escape stair and through the lobby on each level.
"In the context of a multi-storey fire, the single stair and lobbies did not create (nor were they designed to create) a safe escape route or safe working environment for the firefighters."
Browne said this created a number of problems in the efforts to both rescue people and extinguish the fire.
"The conditions on the stairs and in the lobbies were hugely challenging from a very early stage in the fire by reason of their compromise through smoke, reduced visibility, intense heat and toxicity," he said.
"These conditions meant that the Fire Brigade Bridgehead had to remain at or below Level 3 until about 7.30am on 14 June."
Stephen Walsh QC, who is representing the London Fire Brigade, also said the building had not been designed to cater for a mass evacuation.
Speaking to the inquiry yesterday he said: "Buildings such as Grenfell Tower were expressly designed so as to contain any fire in its compartment of origin.
"Accordingly, the building design is not intended to facilitate the simultaneous evacuation of the whole building."
The inquiry will next sit on 18 June when expert presentations will take place.