Tata Steel UK's construction steel business to trade under British Steel following sale to investor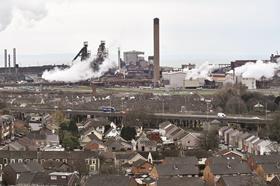 The new owner of Tata Steel's UK structural steel business has said it will invest £400m into the operation which it will rename British Steel.
Investment group Greybull Capital agreed to buy the Long Products Europe division yesterday for a nominal sum.
The deal includes the Scunthorpe steelworks, two mills in Teesside, an engineering workshop in Workington, a design consultancy in York, along with a mill in northern France.
Greybull partner Marc Meyohas said the deal is expected to be wrapped up by the middle of June with the investor promising to pump in £400m – which it said it will raise from banks and shareholders – into the business which employs 4,800 people, including 4,400 in the UK and a further 400 in France.
But it warned that it was looking to make savings at the firm so it had a long term future. It said: "An agreement to reset the cost base of the business has been reached with key suppliers and, importantly, trade unions. Greybull believes these vital changes will make British Steel competitive."
The firm added: "The existing management team will stay and run the business, implementing the plan that they have drawn up to return the company to profitability."
Under its plans, workers are being asked to take a one year pay cut of 3 per cent and changes to their pension scheme.
The Unite union has urged workers in the UK to accept the deal with the ballot due to close next Tuesday (19 April).
The union said the government now had to make sure that infrastructure projects such as HS2 were being built with steel produced from the UK and repeated that it needed to stop the UK being flooded with cheap imports – particularly from China.
Bimlendra Jha, executive chairman of Tata's Long Products Europe business, said: "This sale is the best possible outcome for employees who have worked relentlessly to ensure the business's survival, and helped to make it attractive to a potential buyer."
Talks between Tata and Greybull began late last year after Tata Steel said it was looking to mothball its UK Long Products business.