Heathrow architect eyes new markets after reporting bumper year
Heathrow Airport expansion architect Grimshaw is following Zaha Hadid and Foster & Partners by opening an office in Dubai.
The firm, which is designing a sustainability pavilion for the Dubai Expo in 2020, has overseas offices in Gulf neighbour Qatar as well as further afield in New York, Kuala Lumpur along with two offices in Australia at Melbourne and Sydney.
Hadid opened an office in the Gulf state earlier this month while Foster's is due to open its office this coming January, both in an area called the Dubai Design District. Grimshaw said its office is in the same area and will become fully operational next year.
In a statement accompanying its results, the firm said it was looking at "one or more new offices as a strategic move aimed at operating more effectively in new markets".
Turnover at the firm, which was appointed to the Heathrow job over the summer, broke through the £50m for the first with revenue climbing 40% to come in at £51.5m for the year to the end of March 2016. Pre-tax profits were up 9% to £5.2m.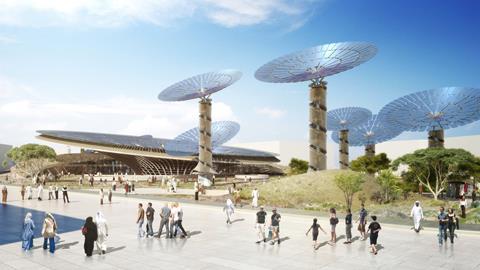 The firm's workloads are broadly split between the UK, the US, Australia and the rest of the word with £1.3m – just 2.5% of total revenue – coming from Europe.
Grimshaw chief financial officer Neil Boyde said: "Notwithstanding the current uncertainties created by Brexit and other factors, the global nature of the business and the diversity of our work position us strongly for continued success."
The number of staff at the year end topped 400, rising from 324 to 406, with the increase sending its wages bill up a third to just over £17 million.
Grimshaw is an LLP and had 18 members last year, who picked up an average of just under £278,000 – up £30,000 on last time. The highest paid members were handed just over £356,000.