Terminal set to be the world's largest airport terminal under one roof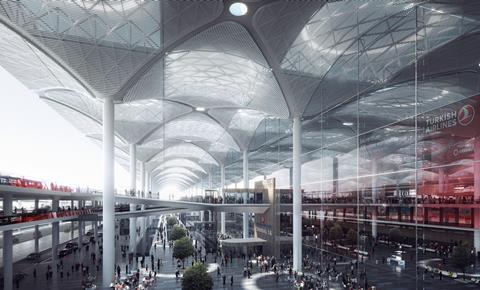 A team of architects including Grimshaw has unveiled its design for the world's largest airport terminal under one roof for the new Istanbul Airport.
The team, which is made up of Grimshaw, Nordic Office of Architecture and Haptic Architects, said the airport would be a "stunning gateway" to Istanbul
Terminal one, which will have floor area of nearly 1m m2, is the first part of a four phase masterplan for the six runway airport, designed by Arup, which will open in 2018.
The Grimshaw team has designed the whole terminal complex which includes a plaza, forecourt on the landside, rail, metro, bus, coach and parking.
Skylights will focus daylight on key areas in the terminal such as check-in; security, passport control and the retail space to aid passengers finding their way through the terminal.
Andrew Thomas, partner at Grimshaw, said; "We are delighted to have been appointed to this bold and aspirational project. We share the consortium's ambitions to develop a truly outstanding airport design worthy of the world city of Istanbul."
The $9bn (£5.4bn) Istanbul Grand Airport will eventually serve more than 150 million passengers a year with its six runways.