Author of upcoming report into building regs and fire safety says changes should not be preserve of Whitehall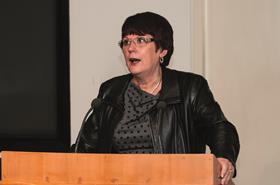 Dame Judith Hackitt has defended the lack of prescriptive regulations outlined in her interim report on building regulations and fire safety, telling MPs that the construction industry needs to take charge of overhauling the system – rather than waiting for government to tell it to do so.
She cited the need to shift the onus of responsibility away from government to those with expert industry knowledge as a reason for a move to an "outcome-based model" of regulation as it encouraged a deeper cultural change within industry.
Hackitt, who was asked to overseea review of building regulations and fire safety following June's Grenfell tower fire, warned a communities and local government select committee yesterday afternoon of the dangers of just focussing on what occurred at Grenfell when pressed on whether banning the use of combustible materials in high rise buildings would be an easier fix than a regulatory framework focused on outcomes.
But she did concede there was a need to outline materials that are safe for use in complex builds.
Hackitt said: "Outcome-based does not mean you can do whatever you want. There are some things that are so important they need to be prescribed."
Her interim report said it was evident very early in the process that there was "a need for significant improvement in the current system in a number of areas."
She also said the construction industry needed to sharpen up its act in sorting out whether people were qualified to carry out safety checks or not.
She added: "I said in the report there is a lack of competence throughout the system and that is in all areas. In the construction industry, whilst there are clearly many competent people, the system for identifying and differentiating those who are competent from those who are not is ineffective."
Hackitt was also pressed on regulations regarding electrical appliances and their installation.
Former minister of state for housing and local government Mark Prisk, raised concerns about 'part P' of the building regulations, which relates to the installation of electrical goods in buildings.
He said it needed to be modernised and improved and that the committee had been in contact with relevant ministers but had been told they were waiting for Hackitt's review before updating that.
In response, Hackitt said while the section was covered in the umbrella of the review, at this point the review did not include detailed looks into sections outside fire safety.
She added the development of a more coherent framework would allow for a fast-tracked approach to the improvement of other sections and that she would take into consideration the need for greater investigation into electrical appliance testing and updating the requirements for their installation.
Hackitt's full report is due out next spring.