Architect admits to struggles finding tenants for former Design Museum home it bought five years ago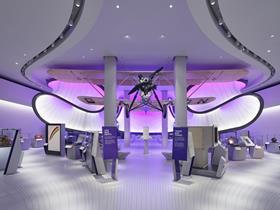 Pre-tax profit at Zaha Hadid Architects slumped close to a third last year as the firm counted the cost of falling workloads in Asia and the Middle East.
The news comes as the firm said the value of the former Design Museum building in east London it bought nearly five years ago had dropped by £1m because it hasn't been able to rent it out yet.
The practice, whose founder died nearly two years ago, saw income from Asia and the Middle East drop by a combined £7.1m – around 15% of its income in 2016.
Workloads at the two regions, which have traditionally been the largest for the firm, slumped by a quarter to £21.3m with Europe now overtaking the pair as the firm's single biggest market. Here revenue shot up 122% to £14m.
But increased business in Europe was not enough to prevent pre-tax profit falling to £4m in the year to April 2017 from £5.7m in 2016. Turnover stayed flat at £46.3m.
In accounts filed at Companies House for Zaha Hadid Holdings, the architect said it was working on a record number of projects – 59 in 27 countries including the Beijing international airport visited recently by China's president Xi Jinping along with a 54-storey tower in Melbourne, Australia.
The firm, whose new maths gallery (pictured) at the Science Museum opened in December 2016, said revenue from its UK work inched up £300,000 to £1.5m.
But the firm warned that it might not be able to rent out its property and new registered office at 28 Shad Thames in east London for "some time" reducing its value to £6.7m – a drop over the year of 15%.
The Design Museum moved to new premises in Kensington back in November 2016 but Zaha Hadid admitted it was having difficulty getting new tenants in.
In the accounts, which were signed off last week, it added: "The property was vacated during the year and remains untenanted at this time. The unique planning conditions for the property reduces the potential pool of tenants for the building and the site could remain empty for some time."
Hadid said the value of its base at Bowling Green Lane in London's Clerkenwell district was static at £10.25m.