Members of engineer's scheme advised by Maxwell scandal veteran as parent firm hints at pension restructure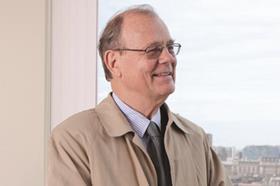 Beneficiaries of Halcrow's pension scheme have hired the man who acted for Mirror Group pensioners in the Maxwell pension scandal as they prepare to lock horns with parent company CH2M over potential changes to their pension pots.
The US firm bought the engineer in 2011 for £124m but was saddled with a £200m-plus pension liability.
Accounts filed for Halcrow Holdings at Companies House earlier this year reveal that CH2M could stop funding Halcrow's pension scheme. The accounts admit Halcrow Holdings' parent, CH2M, is "constrained by the obligations of [Halcrow], in particular its pension liabilities".
They add: "If those obligations cannot be restructured in a mutually beneficial way, then one option for the ultimate parent would be withdraw its [pension] funding for the company and the group [Halcrow]."
Now Halcrow pensioners fear they will be left out of pocket and have enlisted the help of law firm Irwin Mitchell's head of pensions Martin Jenkins, who shot to prominence in the 1990s when he helped recover lost money for Mirror Group pensioners.
According to the Halcrow Pensioners Association (HPA), set up after CH2M's deal to buy Halcrow, the pension scheme's trustees are negotiating with CH2M over restructuring of the scheme.
Should CH2M withdraw its funding, the pension scheme would be transferred to the Pension Protection Fund, a statutory fund set up to protect pensioners if their pension fund becomes insolvent.
In that case, members of pension age when the scheme is taken on by the fund - which the HPA estimates to be around half of the scheme's 3,300 members - would continue to receive their full pension payments but would no longer get an increase with either inflation or at the rate agreed with CH2M when it bought Halcrow. Those not yet of pension age would receive a 10% cut in payments and see their pensions capped at a certain level.
HPA chairman Stephen Brichieri-Colombi (pictured) said Jenkins has been asked to explore the HPA's legal options and help them decide what to do. Brichieri-Colombi told Building: "The concern is if, out of the blue, we got an offer saying the trustees have agreed with CH2M to make this offer to reduce pensions by such an amount, we'd have no means of knowing whether it's negotiable, whether it's the best offer or how to react." He added: "We do have a bit of a fighting fund now."
A CH2M spokesman said: "The financial position of Halcrow is a matter of public record. Since acquisition, material contributions have been made to the Halcrow pension schemes to improve their funding levels and tackle the deficits in place at acquisition. CH2M and Halcrow continue to look for consensual ways to improve the funding position of the pension schemes."