Campaign group go to high-ranking law officer over concerns on CH2M's proposed change to pension scheme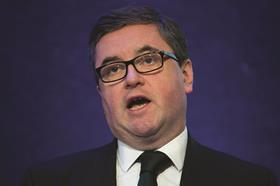 Halcrow pensioners have stepped up the pressure on CH2M after meeting with the solicitor general about the US engineer's plans to cut pensioners' benefits.
The Halcrow Pensioners Association (HPA) met at the weekend with South Swindon MP Robert Buckland (pictured), who is also the second highest-ranking law officer in England after the attorney general. According to the HPA's co-chairman Edward Evans, the solicitor general was "supportive" and "understanding" of the pensioners' case and has "undertaken to write to The Pensions Regulator" about the issue. The HPA is being represented by Martin Jenkins - the lawyer who acted for Mirror Group pensioners in the Maxwell pension scandal back in in the 1990s - and is preparing to take legal action against CH2M.
The meeting comes after Halcrow, owned by CH2M, wrote to pensioners three weeks ago outlining a new scheme, giving them a 2.5% boost to their savings but cutting annual increases from the current level of 5% to CPI-indexed inflation, which currently stands at 0.3%. If pensioners reject the offer or do not reply by 5 August, their pensions will be moved to the Pension Protection Fund, where retirement age pensioners would receive full payments but no increases, while those not of retirement age would take a 10% cut.
The HPA said it understands The Pensions Regulator has agreed to the scheme using a regulated apportionment agreement (RAA), a statutory mechanism which allows a company to free itself from its financial obligations to a pension scheme in order to avoid insolvency.
It has asked MPs, including Buckland, to write to the regulator to ask them to hold up the RAA process and consult Halcrow pensioners on the new scheme offered by CH2M.
The news comes as a recent filing from CH2M to the Securities and Exchange Commission (SEC) in the US appeared to contradict the firm's position that it has no liability to contribute to the Halcrow pension scheme. The filing states that as a result of its acquisition of Halcrow, CH2M has "ongoing funding obligations" for the pension schemes and "may be required to contribute additional cash to meet any underfunded benefit obligations" under these plans.
However, in response to the filing a CH2M spokesperson told Building: "The law is absolutely clear that CH2M has no liability to contribute to the Halcrow Pension Scheme (HPS). CH2M is not an employer in the HPS and has not given a guarantee to the HPS."