Growing risks in retail sector giving investors cause for concern, says developer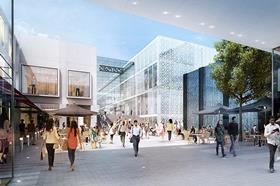 Hammerson has pulled the plug on its proposed £3.4bn takeover of rival shopping centre developer Intu, blaming increasingly tough trading conditions in the UK retail industry for the move.
Hammerson had announced plans to buy Intu, which owns the Trafford Shopping Centre in Manchester, last December.
At the time Hammerson chairman David Tyler had claimed the combined entity would be "well-placed to take advantage of higher growth opportunities on a pan-European scale".
But the recent downturn in the sector prompted a re-think, the group has admitted.
In a statement Hammerson, currently revamping the Brent Cross shopping centre at a cost of £1.4bn and due to redevelop the Whitgift centre (pictured) in Croydon with the Westfield group, said the equity market was "aware of a heightened level of risk" associated with the UK retail property sector.
"It is also apparent from extensive engagement with shareholders, in particular in recent weeks, that there is a wide range of views on the merits of the Intu acquisition.
"As a result, the board of Hammerson has concluded that the heightened risks associated with the [deal] outweigh the long-term rewards that can be expected in comparison to other strategic options open to the company," it said.
When it announced the proposed deal back in December Hammerson said it would result in its shareholders owning 55% of the new group, with Intu shareholders taking 45%.
It envisaged annual cost savings of around £25m kicking in two years after the takeover went through, with one-off integration costs of around £40m and at least £2bn in disposals from the combined firm's portfolio.
After today's announcement Hammerson shares were trading 4% higher at 514p.