Chief construction adviser to ensure slimmed down Constrction Leadership Council addresses all issues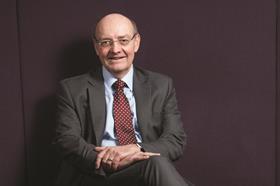 Chief construction adviser Peter Hansford has said he is working to ensure the new structure for government interaction with the industry, set out by the business department last month, didn't leave "significant gaps" in policy.
Speaking to Building, Hansford (pictured) said he supported the slimming down of the existing 30-strong Construction Leadership Council (CLC) to a body of around 12 members.
However, Hansford said it was important to ensure that the none of the current work being undertaken by him and the CLC in supporting the Construction 2025 strategy, would be dropped.
He said: "We need to ensure the new structure doesn't leave any significant gaps, and I'm looking now at how any potential gaps in work will be filled, and how work will be resourced."
Hansford said the agenda of the new CLC was unlikely to be very different from that of the current body.
The decision to terminate the chief construction adviser role, six years after it was set up under the then Labour government, provoked widespread disappointment when it was announced in July. The government was also criticised for the make-up of the revised CLC, which will be dominated by major clients and contractors and does not appear to leave space for representation for product manufacturers or construction professionals.
Hansford said it was right that with the Construction 2025 aims bedded down, the original "big tent" of the CLC should be slimmed down to "those best placed to lead in order to make things happen".