Architects put on notice for next tranche of work
Hat Projects has won the latest competition up for grabs at the Science Museum, a scheme to design a new entrance and a patrons' centre at the South Kensington institution.
The firm beat Farshid Moussavi, Universal Design Studio, Pringle Richards Sharratt and Stanton Williams to land the prize at the museum which attracts 3.3 million visitors a year.
The project is part of the museum's masterplan to transform around a third of its site by 2020.
The museum said Hat's proposal on Exhibition Road met its brief for a "welcoming, light and sophisticated entrance". The work will centre on space left by the Royal Mail following the sale of the Post Office building to Imperial College.
HAT co-director Tom Grieve said: "We are thrilled to be working with the Science Museum on a project that will transform the museum's public face to become more welcoming and inspiring, as well as functional, for its millions of annual visitors."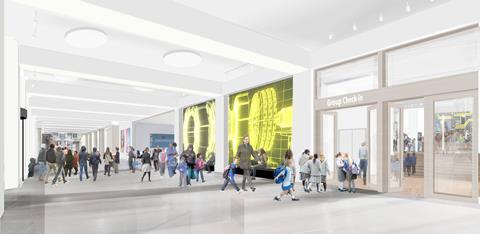 The news comes as the museum has said it will shortlist at least five practice for the next tranche of work it plans to carry out.
It wants to turn two floors of the museum, previously home to the Medicine Galleries, into a large daytime event space. The work on the fourth and fifth levels will create dedicated space for events and were previously home to the Medicine Galleries which are now being moved to level one and will be double in size when they open in 2019. The architect on this £24 million part of the work is Wilkinson Eyre.
Others working at the site include Zaha Hadid Architects which is designing a maths gallery and Muf which is designing the new Launchpad children's centre.
Practices have until midday April 20 to submit expressions of interest for the exhibition space work with documents accessible here.