4,500-home masterplan includes work by Sheppard Robson, Serie Architects, dRMM, Haworth Tompkins and Maccreanor Lavington
Hawkins Brown and Studio Egret West have set out their vision for the redevelopment of the former Earls Court exhibition centre in west London – in partnership with some of the most prestigious names in British architecture.
The masterplanners' proposals include delivering 4,500 new homes at the reconfigured 16ha site, which straddles the boundary of Kensington & Chelsea and Hammersmith & Fulham councils – as well as rail and London Underground lines. Hawkins Brown and SEW were appointed to the project two years ago.
Sheppard Robson, Serie Architects and dRMM are delivering the first phase of the project on the Hammersmith & Fulham side of the site.
Meanwhile, ACME is designing a signature office building on Warwick Road in Kensington & Chelsea. Haworth Tompkins and Maccreanor Lavington are collaborating to bring forward the first homes in Kensington & Chelsea as well as a "significant cultural offer" at the heart of the site. SLA is leading on landscape work for the project.
The scheme is being developed by the Earls Court Development Company, a joint venture between Delancey and Transport for London that acquired the site from previous owner CapCo in 2019 for £425m.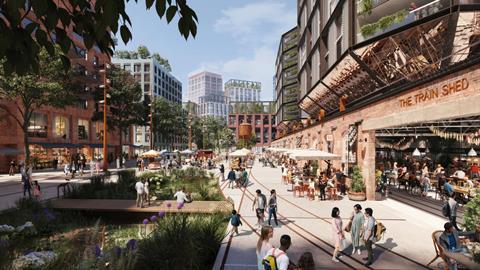 ECDC said the scheme's tallest building would be 38 storeys – higher than the area's Empress State Building, designed by Stone, Toms & Partners and completed in 1962. The 28-storey office block is approximately 100m tall. Three other structures proposed for the development would be higher than 30 storeys, and a further five would be 20-29 storeys.
The developer said the "vast majority" of the masterplan's roughly 100 buildings were two-to-four storeys around the edges of the site and five-to-12 storeys further in.
An earlier masterplan for the site drawn up by Farrells proposed up to 10,000 homes but only a small element of that scheme has progressed. ECDC has aquired more land for its proposals.
Today's masterplan details are the first time ECDC has revealed visuals for the project since the new design team was finalised following competitions last summer. It said the plan was for a 60:40 split between residential and other uses.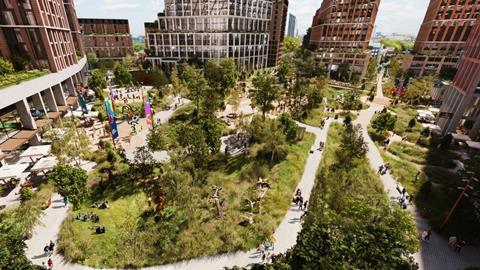 ECDC said the workspace offer would include space for company headquarters, a "creative boulevard" where research and development would exist alongside space for arts, performance, and music.
It added that that level changes on the site would allow for basement space to be used for "last mile" logistics.
ECDC said the area's culture offer would include a new flexible venue suitable for theatre, music, exhibitions and events. There will also be new gallery space.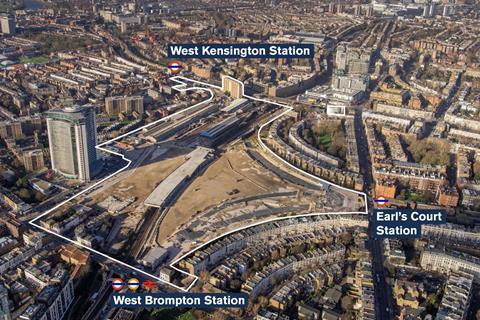 An existing train shed to the north of the site will be repurposed for cultural events, markets and food offers.
ECDC chief executive officer Rob Heasman said the aspiration was for a "more inclusive and equitable piece of city with homes for all incomes and stages of life, and thousands of jobs from training to start up to scale up".
"We want to create a place which reinstates 'wonder' in this incredible part of London," he said.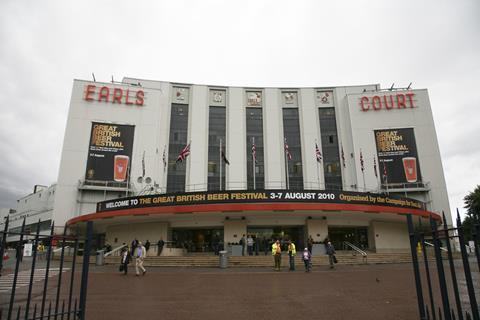 "The development will integrate culture and public realm throughout, responding to the number one stated desire from local people; to have green and open spaces across the site.
"We have an ambition to be a global exemplar of responsible, sustainable development, putting people's health and well-being first."
Heasman said ECDC also wanted to deliver the UK's first large-scale zero-carbon energy-sharing network, and that up to 15,000 jobs would be created with the development becoming a "research and development hub for green tech".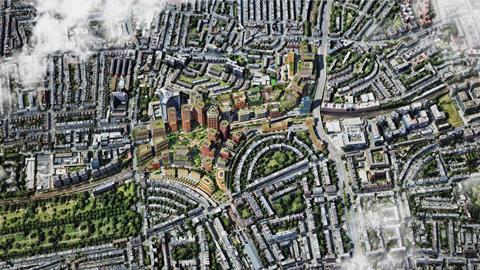 Under the Hawkins Brown and SEW plans, only 40% of the site will have buildings on it, to prioritise the streetscape and public open spaces.
ECDC said landscaped piazzas, play space and public gardens at the entrances would connect through a network of pedestrianised streets and spaces to a park at the heart of the site that would be a "unique destination" that repurposed part of the exhibition centre structure.
Earls Court exhibition centre was demolished in 2015.
ECDC said it expected to submit a planning application for the 1,300-home first phase of development by the end of this year and that work on the park and the site's "vital" east-west connections would start in 2025.