Work expected to start on site next year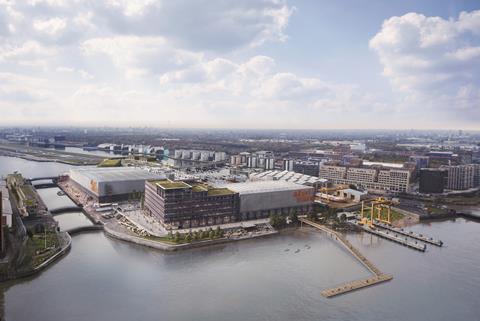 Haworth Tompkins has won consent for an industrial masterplan for the £300m transformation of an island in east London's Royal Docks.
The industrial intensification project, five years in the making, was drawn up with industrial architect Ashton Smith for London & Regional and landowner the GLA. The scheme was given the green light by Newham Council.
The project will create 70,000sq m of employment space on Albert Island by co-locating and stacking different typologies and functions in a way that Haworth Tompkins co-founding director Graham Haworth said was not currently found in the UK.
The masterplan includes a modern boatyard facility and marina, multi-storey last-mile distribution warehousing and light industrial buildings, long-term storage and flatted factory typologies, as well as housing and a new HQ for the Royal Docks Management Authority.
Albert Island lies at the eastern end of City Airport's runway. It is bounded by the Thames to the east and two of the Royal Docks – Albert and George V – to the west. Towards the end of the Second World War, when they remained in operation despite being badly bombed, the docks were used to construct the mulberry harbours used to establish beachheads for the D-Day landings.
As a large brownfield site zoned for industrial use, close to central London and connected to the river, Albert Island was a "fantastic opportunity" to create an exemplar industrial intensification project which would be integrated into the wider city, added Haworth.
"To maximise land use for the industrial space, we have created a 'table-top' strategy which provides a transfer deck nine metres above ground, offering a steel 'chassis' frame on to which various enclosures are added," he said.
On the Thames frontage this will incorporate a seven-storey, 20,000sq m flatted factory, dubbed the Ideas Factory, which will contain a mix of start-up businesses and educational uses.
A palette of materials and colours for the façades, along with shared supergraphics and wayfinding across the site has been developed to bring cohesion while expressing differences between zones on the island.
Technical design work for the first buildings is now underway, with an anticipated start on site in 2022.