Caddick Construction saw income jump one fifth last year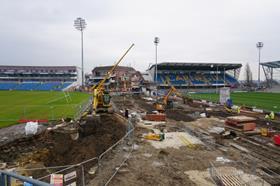 The contractor carrying out work redeveloping Headingley cricket ground in Leeds said turnover approached £100m last year.
Caddick Construction, which is chaired by Paul Caddick, the owner of the ground along with Leeds Rhinos rugby league club after taking over the two back in 1996, reported turnover of £97.7m in the year ending August 31 2017, up from £81.3m in 2016. Pre-tax profit rose 6% to £3.4m.
The £35m redevelopment at the cricket ground (pictured) also involves rebuilding the neighbouring rugby stadium's North Stand after Caddick completed work on the club's South Stand earlier this year.
Schemes Caddick completed during the period included turning a 1960s eyesore in York called Stonebow House into a mixed-use development while it built the first phase of a £100m distribution centre off the M62 motorway near Wakefield.
The firm's managing director Andrew Murray said it was looking at posting a turnover of £103m for the current year, with £87m of work already secured.
Based in West Yorkshire, the firm, which has a sister civil engineering business, is part of the wider Caddick Group which also includes Moda Living.
Earlier this year, Moda Living drafted in Caddick Construction to take over from bust contractor Carillion on a £154m residential scheme in Manchester called Angel Gardens.
Caddick and his son Johnny were listed 453rd on last year's Sunday Times rich list with an estimated wealth of £250m.