Member of the House of Lords lash out at Arup engineered scheme calling it a "waste of money"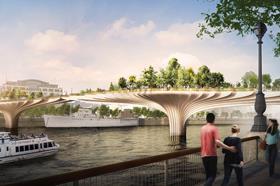 Arup and Thomas Heatherwick's Thames Garden Bridge has been branded a "vanity project" and a waste of money in the House of Lords.
The Garden Bridge Trust, which is handling development of the scheme, is currently seeking investors in the £150m project, which would span the Thames from Victoria Embankment to Temple.
The Treasury has already said it will put £30m into the project, roughly the amount of VAT that would normally be paid on it.
Speaking in the House of Lords yesterday, Labour's Lord Davies said: "It is a very expensive piece of public art, a vanity project of the mayor—and we know where his vanity projects have gone and what they have cost the country."
He compared the scheme to the "risible" Emirates Air Line cable car over the Thames at Greenwich, saying the tax payer would eventually foot the bill for its upkeep.
Lord Lloyd said it was "waste of public money" to spend £30m on the bridge and there was "no real need" for another bridge across the Thames in the area.
But Lord Deighton, commercial secretary to the Treasury, said it would be a "great showcase for UK expertise".
He said: "Our brilliant designer, Thomas Heatherwick, is designing it, Arup is engineering it and Dan Pearson is landscaping the garden, so it will generate other future business for London through that showcase."
When pressed on why the Treasury had already said it would put £30m into the project, Deighton said that this was subject to the scheme's business case passing the department's value for money tests.
He added that it would provide a visitor attraction, a transport link and stimulate further development on both sides of the river.