Current Heathrow development director John Holland-Kaye chosen as new chief executive of airport operator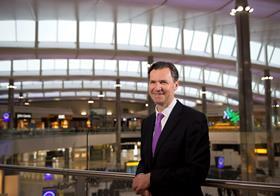 Heathrow has appointed a former Taylor Wimpey boss, and the airport operator's current development director, as its new chief executive.
The airport operator said it had chosen John Holland-Kaye, currently Heathrow development director, as the company's new chief executive, with effect from 1 July.
As development director, Holland-Kaye has been responsible for delivering £1bn annual investment in transforming Heathrow, including the new Terminal 2 building.
He joined Heathrow as commercial director in May 2009.
Holland-Kaye John was previously divisional chief executive with Taylor Wimpey and operations director at Taylor Woodrow.
Heathrow announced in April that Colin Matthews would be standing down as chief executive.
Holland-Kaye said: "I am very proud to have been chosen to succeed Colin as chief executive. We have worked closely together for the last five years to improve passenger experience, efficiency and resilience, to a point where Heathrow is increasingly seen as Europe's hub of choice.
"My aspiration is to improve Heathrow as much in the next five years as we have in the last five years."