Logistic sites winners due to be named next summer
Heathrow Airport has said the four offsite logistic hubs that will be used to help build the third runway at the west London airport will be able to use a centralised tracking system for millions of component parts.
Earlier this year, Heathrow bosses drew up a shortlist of 18 sites which will pitch this autumn for their chance to become one of the four construction centres.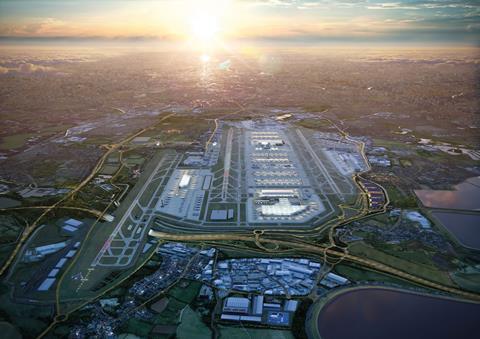 The airport said the technology, drawn up by Siemens Digital Logistics, will be able to track and monitor the parts needed, meaning the four hubs will be able to work in unison and provide updates to the Heathrow site.
The hubs will be used to keep the number of site workers required at Heathrow down to around 10,000 people.
Sites run by steelwork contractor Severfield as well as ones run by Balfour Beatty and Tarmac are among those that will find out by the middle of next year if they have been successful with their pitches with the final round of bidding due to get underway shortly.
Main construction work on the third runway, masterplanned by Grimshaw Architects, is scheduled to start in 2022 with the new runway set to open at the end of 2026 with the entire scheme due to be completed in 2033.