Exhibition centre set to be most sustainable of its kind in the UK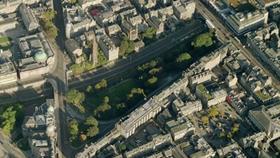 Henry Boot Developments has been chosen as the contractor for the £200m Aberdeen Exhibition and Conference Centre.
The firms mixed-use development includes a car park, a four-star hotel, and event and conference spaces.
The multi-use arena is also claimed to be the most sustainable of its type in the UK. The council will lease the property for 35 years after completion, at which point the council can buy the property and land for £1.
Council leader Barney Crockett said: "The AECC is a key element of the business infrastructure needed to promote Aberdeen as the energy capital of Europe. The provision of continued support to maintain this asset and enable it to develop and do an even better job is essential. The Henry Boot Developments proposal for a new facility on a new site is very innovative and exciting."
Henry Boot Developments managing director David Anderson added: "We are confident that we can deliver a state-of-the-art exhibition and conference centre to enable the city to build on its reputation as a major conference and exhibition venue."