Civil engineer's managing director criticises firm's bank for calling in the administrators last week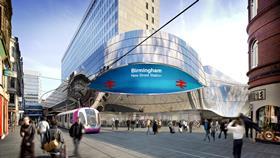 Hewlett Group's managing director has criticised the civil engineering firm's former bank Lloyds for its decision to call in the administrators, damaging the firm's reputation, writes Vern Pitt.
Four of Hewlett's subsidiaries, including Hewlett Civil Engineering, were placed into administration last week. Senior managers then rescued the firm days later with a management buyout, saving 300 jobs.
Administrator BDO said it had been called in to administer the firms, which together had a turnover of £42m in 2012, after "the companies encountered financial difficulties as a result of the challenging economic climate over the past few years".
Speaking to Building, Alan Cooper, Hewlett Group managing director – who with founder John Duffy now owns the company following the buyout – said the firm's bank had called in the administrators over debt of less than £5m. He said the move was "hostile" and that Hewlett had already been "looking for other funders".
"They gave us no warning that that was what they would do," he said. "It has been very damaging to us. The reputation has been severely damaged. We regretthat decision very much and we cannot turn the clock back. We are trying to repair a lot of that damage."
Cooper said a drop in residential property prices, which had affected the group's property arm, was the main cause of the debts that led to the bank calling in the administrators.
He said the firm was paying the debt down but "clearly" it was not fast enough for the bank.
Hewlett is now no longer in the housing business having left its housing arm – Portford Homes – in administration.
The firm was forced to shut down its work on all its sites when the administrators were called in. Cooper said work on some contracts, including a gas storage facility in Cheshire and infrastructure work for developer Bellway in Sheffield, had now restarted under the new firm.
But Cooper said it could take up to two weeks for all of the old firm's contracts to be novated to the new firm. He said he was unsure if all contracts would eventually come across.
Hewlett's work on the £600m redevelopment of Birmingham New Street station (pictured) is one contract yet to be signed over. "I cannot speak for [project manager] Mace or Network Rail; they may have options they are considering," said Cooper.
He said he saw the "most exciting" opportunities for growth in the Middle East. Cooper said there were already staff based in the region developing leads. "Growth is likely to be at a very low percentage in the UK which is why the overseas market is very attractive," he said.
A Lloyds spokesperson said calling in administrators was always a "last resort".
"We had worked with the company's management for a number of months to try and find a consensual solution which would put the business on a sounder financial footing. We provided considerable support – … through several temporary increases in facilities and a waiving of covenants," he said. "Unfortunately, it did not prove possible to restructure without a formal insolvency process."