Shortages in Canada and New Zealand to test UK staff's resolve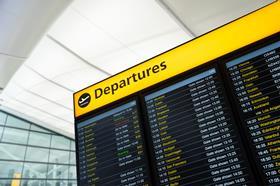 Industry leaders are warning that higher salaries and skills shortages abroad will start to see UK construction professionals heading overseas.
According to Building's 2019 International Salary Survey, which has been produced by recruitment firm Hays, the lure of better pay and ongoing political uncertainty in the UK will prove too much of a draw for some.
Ann Bentley, global board director at Rider Levett Bucknall, said there had been a slowdown in movement between UK companies – pointing towards staff looking abroad.
She said: "I would say this is stage one, where someone thinks, 'I've got a reasonably well-paid job that I've had for a while, so I'll stay here rather than being the newest person in another business'. Stage two is, 'should I look abroad?'"
Gleeds chairman Richard Steer said domestic politics would play a role in individuals' decision making but added: "By and large, staff want to practise abroad for positive reasons rather than fleeing because they fear a decline in the UK market."
Skills shortages in New Zealand and Canada could lead to more active recruiting in the UK, he said, which would make it difficult for UK firms to plug gaps left by EU workers leaving the British labour force.
According to the salary data this could be of particular concern for architecture practices, who are expected to feel the heat from reduced EU migration, given that the top-end wage for senior architects in Christchurch is £57,382 – 26% more than in the UK.
In New Zealand commercial construction experts are particularly in demand on the country's South Island, while in the north there is particular demand for engineering professionals.
Canada is also experiencing a skills shortage, as the construction industry continues to grow.
Hays found that estimators, senior project managers, superintendents and development managers were most in demand across the country.
Meanwhile, Ireland could be an attractive market for quantity surveyors looking for a more high-paying role, with senior quantity surveyors in Dublin paid up to £75,324 – 23% more than the £61,208 that is the top end of the range in the UK.
Heading to Australia could be another option for those seeking a pay rise amid a cautious UK economy with architects, project managers structural engineers and quantity surveyors all able to earn at least 20% more in either Sydney or Melbourne.
Structural engineers could be in line for a particularly high pay rise if they make the move Down Under with those at the top end of the pay scale paid £82,445 in Sydney and £71,437 in Melbourne.
In the UK the comparative salary is £38,917 – meaning salaries are 111% and 84% higher in Sydney and Melbourne respectively.