Greenpeace-commissioned lawyers allege government support for Hinkley likely to be blocked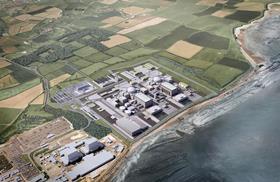 Financial support from the French government to help EDF build Hinkley Point C is likely to be blocked by the European Commission, lawyers have claimed.
It comes after reports in France claim president Francois Hollande chaired a meeting devoted to the future of EDF, with the French energy giant looking to secure more money from the state before it makes a final investment decision on the £18bn nuclear power plant in Somerset.
But any move to give EDF more money would constitute state aid, under EU law, a group of lawyers commissioned by Greenpeace and green energy supplier Ecotricity has claimed. This would then need to be approved by the European Commission.
In an opinion piece, sent with a covering letter to EDF and the UK and French governments by Ecotricity and Greenpeace, the lawyers claimed it is unlikely the French government support would be approved.
They said: "The Commission was willing to approve the support provided by the UK government only after the level of support was reduced – which indicates that any additional support provided by the French government would be unlikely to be regarded as proportionate."
They added if the French government did provide support and it was deemed by the European Commission to be unapproved state aid, the Commission could order it to be repaid.
According to the lawyers, this would then mean EDF could be in a position where it had to "repay billions of euros to the French government, and also (because of the loss of capital) withdraw from the Hinkley project".
Ecotricity and Greenpeace said they would launch a legal challenge if any further state aid was given for Hinkley.
The letter commissioned by Ecotricity comes as the green energy firm announced it has bought the UK solar business of American giant SunEdison, which filed for bankruptcy in the US last week.
The £110m-turnover firm has acquired SunEdison's home rooftop solar business, its first step into the domestic solar market.
Ecotricity's founder Dale Vince – who also owns football club Forest Green Rovers – said: "The government's cuts to the feed-in tariff, and its broader attack on the renewables industry, have caused a significant problem for companies like SunEdison.
"We have seen some go bust and others quit the UK market as a result, losing a lot of jobs as a result."