Architect and consultant win roles on £40m research facility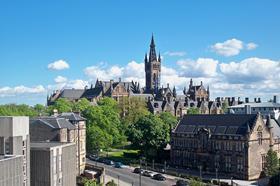 Architect HOK and engineer WSP | Parsons Brinckerhoff have been appointed to design a new research hub for Glasgow university.
The £40 million building will be built at the university's Gilmorehill campus and will house research staff working on energy demand and waste management. HOK will be lead consultant, and WSP will be consultant engineer on the project.
The 14,000 sq m research hub will be the second part of what the University has described as an 'inspirational and world-leading masterplan' for the West End campus, and is due to complete in 2019.
HOK's regional leader for science and technology Adrian Gainer said: "We look forward to creating a design that will encourage interdisciplinary collaboration and inspire the university's research teams to pursue world-changing activities."
John Cox, WSP | Parsons Brinckerhoff senior technical director for building structures said: "This is a significant win for us as it strengthens our ongoing relationship with the University of Glasgow as well as raising our engineering skills profile in the education sector across Scotland and the UK as a whole."