The housing agency has a pipeline of more than 200 sites for sale across the next year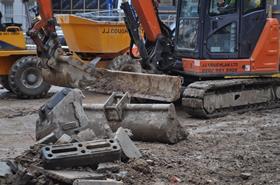 Homes England has unveiled plans to sell sites covering a total of more than 1,250ha over the next 12 months.
The government's national housing agency has published its latest Land Development and Disposal Plan, which details the nationwide portfolio of sites, not all of which are for residential development, it plans to market for development.
There are 83 sites currently on the market, while the future pipline includes another 143 sites across the country.
There are 33 sites in the South East that are either currently or will be made available in the next year. There are 48 in the Midlands, 63 across the North East, Yorkshire & The Humber, 33 in the North West and 44 in the South West.
For the first time Homes England has created an interactive map allowing users to identify sites geographically and to view site-level details online.
Sites listed in the Land Development and Disposal Plan will be disposed of on a competitive basis through Homes England's Delivery Partner Panel, through a private treaty sale, OJEU process or auction.
Stephen Kinsella, executive director for land at Homes England, said: "As part of Homes England's expanded remit, we will be much more active in the land market, using our increased resources to ramp up the acquisition of land opportunities and developing new ways to partner other government departments to bring forward more sites more quickly."
The publication of the Land Development and Disposal Plan follows the news that Homes England is launching a new framework that will help speed up the delivery of new homes, which will be in place in the autumn.