Firms reporting problems has slowed markedly from summer high
Output recovered in October with hopes being raised that the worst of the supply chain issues that continue to dog the industry may nonetheless have peaked.
The latest PMI data drawn up by IHS Markit and CIPS said total activity for October stood at 54.6, up from the score of 52.6 the month before.
The latest figure means output has grown in each of the last nine months with the figure in June reaching 66.3, a 24 year high, but which is increasingly looking like an anomaly.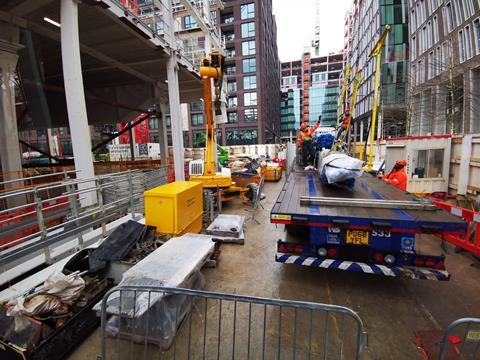 Housebuilding was the best performing sector last month with a score of 55.4, replacing commercial work which recorded a mark of 55.2. But civil engineering continued to trail, with the October score of 51.4 only marginally up on the previous month. Growth in new orders remained flat.
More than half of those questioned were reporting longer than normal delivery times but the 54% who said so was down markedly from the 63% who were saying the same thing in September with the figure significantly below the 77% peak recorded in June.
Tim Moore, director at HIS Markit, which puts together the survey, said: "There were widespread reports that shortages of materials and staff had disrupted work on site, while rising fuel and energy prices added to pressure on costs. Nonetheless, the worst phase of the supply crunch may have passed."
And Jan Crosby, head of infrastructure, building and construction at KPMG, added: "The construction sector has had every challenge thrown at it this year and yet in the face of this ongoing volatility there is still huge demand for projects.
"I'd expect to see continued growth in demand for energy efficient buildings to drive energy retrofitting and services, as well as new build growth where existing buildings are no longer seen as green."
The survey said that 73% had reported that costs were going up with rising energy and commodity prices along with raw material shortages and a lack of transport availability all being blamed.
This prompted a warning from Max Jones, the director of Lloyds Bank's infrastructure and construction team, who said: "What will become evident is which contractors have underbid and overpromised on contracts as they find their budgets don't cover the rising costs of supplies."
But optimism among the industry remained in credit with the score here ticking up slightly to 52% from the month before.