Tory chair of energy committee fears long delay in selling Horizon Nuclear Power after hearing evidence from energy firms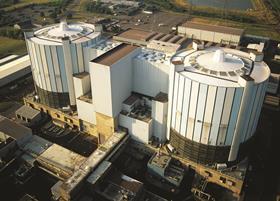 There is little hope of the Horizon Nuclear Power project being bought this year the chair of the commons energy committee Tim Yeo has said.
His comments followed evidence to the committee, which is investigating the future of the UK's nuclear new build programme, by the bosses of the two German energy companies RWE Npower and E.ON that put the Horizon joint venture up for sale at the end of March.
Construction industry experts have already said that a quick sale will be essential for the £10bn construction of Horizon's first planned plants in Wylfa in Anglesey to go ahead on schedule.
Horizon also has the site licence for a new nuclear plant at Oldbury in Gloucestershire (pictured).
But Yeo, a Conservative, said: "If this had been something that is easy to sell they would have sold it."
"They are bravely talking about their mergers and acquisitions process they are going through - well that may go on for months if not years.
"I'm no longer at all confident that we will have a significant replacement for our nuclear power in the next ten years."
But energy minister Charles Hendry told the committee that he anticipated the Horizon project "meeting the same time scale or even accelerating".
Hendry said he "did not expect" the project would be bought out by one of the two remaining nuclear consortia in the UK: EDF Energy, in partnership with energy firm Centrica; or NuGen, a partnership between energy firms GDF Suez and Iberdrola.
When pressed by the committee on the number of buyers that had come forward for the venture Tony Cocker, chief executive of E.ON UK said: "We are running a process," adding that he believed the project remained a great investment opportunity.
Both Cocker and Volker Beckers, group chief executive at RWE Npower, said there was no prospect of them changing their decision to sell.
Meanwhile, major earthworks needed to prepare the ground for a new nuclear power station at Hinkley in Somerset have been delayed.
According to a report in the Guardian, work to move millions of cubic metres of earth at EDF's Hinkley site was due to begin in August, but EDF staff have now been told the work cannot now begin until 2013.
The Guardian said cost overruns on the preparatory work were to blame for the delay.
The £100m contracts for the earthworks were awarded to contractors Kier and BAM in February.