Winners on five deals up for grabs due in 2022
A string of UK and overseas firms have been shortlisted for a slew of track and M&E contracts worth nearly £2.5bn in total on the HS2 railway.
The UK's biggest contractor Balfour Beatty, Spanish giant Ferrovial and Austrian firm Strabag are all leading consortia that are chasing four deals to lay track on the route between London and Crewe.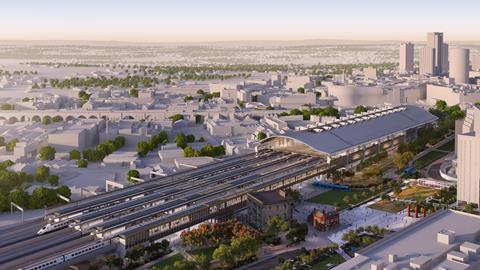 Balfour has teamed up with Vinci-owned French rail specialist ETF and another French firm TSO while Ferrovial has reprised its partnership with Bam Nuttall to bid. The team is one of three currently bidding the £570m Curzon Street station (pictured) job in Birmingham, a winner on which is due by spring next year.
Another French firm, Colas, which is part of Bouygues, is bidding for all four trackwork contracts up for grabs.
The Strabag team, which features another Austrian firm, Rhomberg Sersa, that operates out of the UK from an office in Doncaster, is bidding for three of the four jobs.
Work on the 280km of route between London and Crewe will start once the tunnels, bridges, viaducts and earthworks are complete.
As well as pre-cast slab track, the deals will include rail, switches and crossings.
And a Balfour Beatty team is one of three bidding for the £498m tunnel and lineside M&E package which will include tunnel services within the shafts, tunnels and cross-passages and low voltage power services work. The winning firm will act as the principal contractor.
All the deals are expected to be awarded in 2022.
Five more rail systems contracts will also be awarded, covering signalling, the overhead catenary, high voltage power supplies, communications systems and the depot and control centre at Washwood Heath in Birmingham.
A £260m contract to manufacture slab track was awarded to Austrian firm PORR in October who will make it at a new factory in Shepton Mallett, Somerset. The firm is carrying out the deal with Aggregate Industries.
Track Systems shortlist
Lot 1 - Phase One (Urban – London and Birmingham) - £434m
Balfour Beatty Group Ltd, ETF SAS, TSO SAS (BBVT Joint Venture)
Ferrovial Construction (UK) Ltd and BAM Nuttall Ltd (Ferrovial-BAM Joint Venture)
Colas Rail Ltd
STRABAG AG UK and Rhomberg Sersa UK (STRABAG Rhomberg Sersa Joint Venture)
Lot 2 - Phase One (Open Route - Central) - £526m
Balfour Beatty Group Ltd, ETF SAS, TSO SAS (BBVT Joint Venture)
Ferrovial Construction (UK) Ltd and BAM Nuttall Ltd (Ferrovial-BAM Joint Venture)
Colas Rail Ltd
STRABAG AG UK and Rhomberg Sersa UK (STRABAG Rhomberg Sersa Joint Venture)
Lot 3 - Phase One (Open Route - North) - £566m
Balfour Beatty Group Ltd, ETF SAS, TSO SAS (BBVT Joint Venture)
Ferrovial Construction (UK) Ltd and BAM Nuttall Ltd (Ferrovial-BAM Joint Venture)
Colas Rail Ltd
Lot 4 - Phase 2a (Track) - £431m
Balfour Beatty Group Ltd, ETF SAS, TSO SAS (BBVT Joint Venture)
Ferrovial Construction (UK) Ltd and BAM Nuttall Ltd (Ferrovial-BAM Joint Venture)
Colas Rail Ltd
STRABAG AG UK and Rhomberg Sersa UK (STRABAG Rhomberg Sersa Joint Venture)
Tunnel and Lineside M&E - £498m
Alstom Transport UK Ltd
Balfour Beatty Bailey Joint Venture (BBB JV) – a joint venture between Balfour Beatty Group Ltd and NG Bailey Ltd
Costain