Skills shortage and Brexit still pose major barriers to increasing housing stock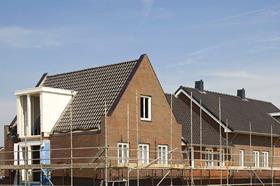 Housebuilders are investing in modern methods of construction and skills to try and build the homes needed to end the current housing crisis, according to new research from Lloyds Bank.
The Lloyds Bank Housebuilding Report found more than two thirds of housebuilders were splashing out on innovative construction methods.
The report, which was created off the back of a survey of 100 housebuilders, found 68% were already investing in modular housing, while 56% had put money into panelised systems.
Housebuilders' cited improved efficiency, ease of build, better construction standards and in some areas, increased margins as motivations to adopt modern construction techniques.
As a result, firms' investment in new building techniques has increased year on year from 20% of current annual turnover to 24% over five years.
But the ongoing shortage of skilled workers was a concern for housebuilders, with almost 30% saying they have had trouble recruiting skilled workers in the regions where they operate.
The report also found that the UK's upcoming exit from the EU was exacerbating the skills shortage, with half the firms saying it was making recruitment harder for specific roles, while a quarter said that to EU labour was a key challenge for their business.
Recruiting architects posed the greatest problem, with half of respondents saying the ongoing EU exit negotiations had made the process more difficult.
Plumbers, quantity surveyors, project managers and planners were the next most in-demand, with more than 40% of the surveyed firms saying the recruitment process had already become more difficult.
But the report also found the sector was tackling the skills shortage head on, with almost 70% of firms investing in staff training, and half setting up apprenticeship programmes.
David Cleary, national head of housebuilding at Lloyds Bank Commercial Banking, said: "The housebuilding industry remains upbeat despite issues that have weighed down the sector for some time, including Brexit uncertainty, which is contributing to a skills shortage and inflating the cost of raw materials.
"It is reassuring to see the sector confronting these challenges head on by investing and planning for business growth, prioritising staff training and looking at more innovative new building techniques."
During the autumn Budget in November, the government set a target of building 300,000 homes per year by the mid-2020s, backed by investment of £44bn on housing over the next five years.