Industry gives cautious welcome to plans to sell publicly-owned sites with planning permission to SME builders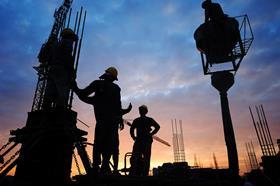 The housebuilding industry has given a cautious welcome to plans announced this week by the government to sell publicly-owned sites with planning permission for thousands of homes to small and medium-sized builders.
Prime minister David Cameron announced on Monday that the government will pilot the plan by "directly commissioning" up to 13,000 homes on five sites this year with up to 40% of these to be "affordable" Starter Homes.
The sites include Connaught Barracks in Dover, Northstowe in Cambridgeshire, Lower Graylingwell in Chichester, and Daedelus on Waterfront in Gosport. The new policy will also be used at the 24,000-home Old Oak Common site in north-west London.
The government says the policy is designed to enable quality homes to be built at a faster rate by smaller housebuilders, who would otherwise not be able to take on big projects.
The announcement did not clarify how the "direct commissioning" approach differed from the existing system for selling public sites for housebuilders to build on.
However, industry sources said the new scheme would see public bodies get planning permission on sites before selling them, rather than selling them without permission to build, which is likely to make them more attractive to smaller builders. It is not thought to refer to the government actually acting as developer, by commissioning contractors to build houses.
A senior housebuilding source said: "We need to know if this is outline planning permission or full planning permission the government is talking about. Also, you have to ask the question of whether the public sector securing the planning permission is going to be a good outcome or not."
Brian Berry, chief executive of the Federation of Master Builders, said the industry also needed to know what size the sites will be broken up into before being offered to housebuilders. "Public land being made available through 'direct commissioning' must be broken down into small and micro plots wherever possible. As the housing minister has recognised, the smaller the site, the quicker it will get built out."