Growth revised up to 0.6% in first quarter, with year-on-year growth of 5.4% driven by 23% increase in housing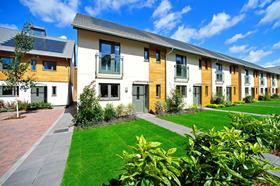 The construction industry grew 0.6% in the first quarter of the year, when compared with the final quarter of 2013, the latest official statistics have shown.
The Office for National Statistics construction output figures, released today, showed growth of 0.6% in Q1 2014, compared to Q4 2013 - an upwards revision from the 0.3% growth in the ONS' first estimate last month.
The figures showed output rose 5.4% when comparing Q1 2014 with the same quarter a year ago, equivalent to a £1.5bn expansion, with the recovery largely driven by a 23% increase in private housing.
But compared to the previous month, construction output fell by 1% in March 2014 following a fall of 2% in February 2014. The fall in construction output in March was broad based with all new work falling by 1.1% and all repairs & maintenance falling by 0.7%.
Comparing Q1 2014 with the previous quarter, total new work rose 0.9%, with repair and maintenance up 0.2%. Year-on-year total new work rose 6% and repair and maintenance rose 4.5%.
Private new housing rose 23% year-on-year, while infrastructure work fell 4.8%. The industrial sector fell 10.6% year-on-year, with commercial work up 1.3%.
The ONS said the latest figures showed the "a growing divergence in the performance of private new housingconstruction relative to total construction output".
The ONS said: "Despite only accounting for approximately 15% of total construction in 2013, new private housing rose by 23% on the year and has driven the recent recovery in total construction."