Housebuilder says materials and labour shortages are easing, in strong half-year results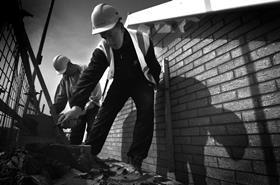 Materials and labour shortages in the housing market are 'easing', housebuilder Barratt has said in strong half-year results.
Barratt said materials shortages, particularly of bricks and blocks, had eased and would only have a "limited effect" on the firm's costs and supplies, while labour shortages, particularly of bricklayers, had also "moderated" in recent months due to labour returning to the industry and better production management.
Nonetheless, build cost inflation is expected to remain at "low single digits", expected to be 3-4% this year, Barratt said.
In half-year results for the six months to December 2014, Barratt posted record completions of 6,971, up from 6.195 the previous year.
Pre-tax profit jumped 75% to £210.2m, up from £120.4m, while revenue grew 25% to £1.6bn, up from £1.3bn.
Mark Clare, chief executive of Barratt, said: "Since 2009 we have committed to invest over £4 billion in land for new housing and this is now paying off."