Government ministers say infrastructure and housing spending is more important, not less, post-Brexit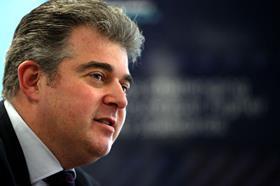 Government ministers have begun efforts to reassure industry leaders that housing and infrastructure spending will not drop after last Thursday's Brexit vote.
Housing minister Brandon Lewis (pictured) and transport minister Patrick McLoughlin both put out statements saying spending on housing and infrastructure had become "more important, not less" after Brexit, with Lewis even quoting the famous slogan devised for the Second World War "keep calm and carry on".
Lewis reiterated the government's "ambition" to help the sector build one million homes by 2020, despite predictions of a slump in house prices and large share price drops for listed builders.
Lewis said the sector was in better shape than 2010, when the Conservatives first returned to government as part of the coalition, adding the government was still committed to starter homes, freeing up public land for housing, reforms to compulsory purchase, extension of right to buy.
He added: "The reforms already in place and those ready to go, provide a shovel-ready programme of action for the new PM and his, or her, government."
Meanwhile, the mayor of London Sadiq Khan's new deputy mayor for housing, James Murray, told London Assembly members that the new City Hall administration would take measures to boost housing.
Murray said the Labour mayor would change planning rules to boost build-to-rent developments and would demand more powers from Whitehall to further stoke the sector, including "substantial" cash for affordable housing.
He will meet builders and housing associations next week to further discuss City Hall's response.
The comments came as the Institution of Civil Engineers (ICE) published a new report on devolution, urging that the government give regions greater powers over infrastructure development.
The ICE calls on the government to ensure regions work up detailed infrastructure strategies and pipelines as part of devolution settlements, as well as improve their client skills.
Regions should also be given additional flexibility to raise finance for projects, the ICE adds.
Dozens of regional devolution deals have been struck with parts of England and Wales in recent years, while a Transport for the North body has been launched to oversee improvements in northern England as part of the Northern Powerhouse initiative.
Richard Threlfall, head of infrastructure at KPMG UK and chair of the ICE's Northern Powerhouse steering group, commented: "We need Transport for the North (TfN) to be established with the power to develop, fund and implement a regional transport strategy, to deliver agreed social and economic outcomes for the region."
PwC's Neil Broadhead said: "With the EU referendum casting uncertainty on some future infrastructure funding streams, the focus needs to be on quickly establishing longer term stability in terms of infrastructure investment."