James Brokenshire calls in 20-storey development after Historic England objections
A controversial £300m scheme in the heart of Norwich has been called in by housing secretary James Brokenshire after concerns were raised by Historic England when it was given the green light at the end of last year.
The Anglia Square project, which is being developed by housebuilder Weston Homes and landowner Columbia Threadneedle, was given planning by the city council in December.
But the heritage group said it would write to Brokenshire before Christmas demanding he call in the development.
The scheme, which will replace a 1960s development with three buildings of up to 12 storeys, has seen a fourth tower come down in size from 25 to 20 storeys.
But John Neale, Historic England planning director in the East of England, said the reduced 20 storey tower would still "radically disrupt the character of the cityscape" and would intrude in many views.
He added: "While we recognise Anglia Square is in need of redevelopment, this 20 storey tower is certainly not the answer. Despite the reduction in height, it would still remain a prominent and alien feature."
Historic England and local residents have complained the tallest tower is still too high for the city's skyline – known for its views of churches.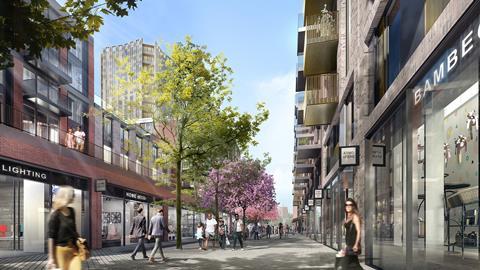 Designed by architect Broadway Malyan, the scheme has promised 1,200 new homes, a hotel, cinema, multi-storey car parks, a place of worship and ground-floor retail and commercial space.
Norwich council said it was "very disappointed" by Brokenshire's decision.
"Not only will it substantially delay progress on a site in desperate need of development, but also make it very unlikely that Norwich will be able to benefit from the £12.2m of government funds already allocated to this development," a spokesperson said. "This money would have been used to accelerate the development of the site."
Weston Homes said it was also disappointed that a "local democratic decision, made after extensive public consultation" was being subjected to further challenge.
"Weston Homes will now undertake a period of reflection and consultation with stakeholders, in order to decide our next course of action," it said in a statement.
Others working on the scheme include transport consultant WSP, planning consultant Iceni, structural and civil engineering consultant Meinhardt and services consultant JSH.