Following Crossrail row, Allan Cook promises 'transparency' on £55bn railway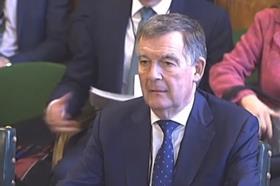 The man in charge at HS2 has revealed he does not expect any more money to be made available for the project.
Fronting the House of Commons transport committee, HS2 chair Allan Cook (pictured) said he did not believe the project's £55.7bn budget, which was laid out in 2015, would be increased by the transport department.
In an exchange with Labour MP Lillian Green, who chairs the committee, Cook said: "I have had no indication from the secretary of state or the department that there is more money being put forward either from the department or indeed from the spending review.
"My view is that the budget was set. Mark [Thurston, HS2's chief executive] acknowledged that there are a number of challenges. As an organisation, we are working hard to provide solutions to those challenges."
And in the wake of the ongoing row about who knew what and when over the delays to the Crossrail scheme, he told MPs last week: "We will continue, and I will continue, to assess the programme on a regular basis. If there is indeed a case where we cannot deliver, it is incumbent on us, in terms of openness and transparency, to go back to the board and subsequently to the department and explain where we are."
Meanwhile, Cook, who replaced Sir Terry Morgan when he was forced to resign as chair in the first week of December, revealed he was approached about taking over from Morgan in late November last year.
The former Atkins chairman said: "They explained that there were some challenges associated with Crossrail and asked whether, if the circumstances changed at all, I would still be interested in taking on the role of chairman of HS2. I said: 'Absolutely'."
Cook said he had orignially been the runner-up to Morgan in securing the top job after being approached by a headhunter from the transport department last summer.