Upcoming meeting between client and Mace follows rail firm's board meeting last week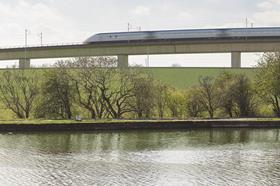 Bosses from Mace and HS2 will finally sit down this week to see if the impasse between the pair over the awarding of a contract to a rival firm can finally be resolved.
It is understood HS2 convened a special board meeting on Friday to discuss the issue which erupted last month when CH2M was appointed to the development partner role on the second phase of the scheme.
Last week Building reported that the QC Mace has hired in its battle with HS2 over the £170m contract is a silk at top London barristers' chambers Monckton Chambers – who charges £650 an hour.
Building understands Michael Bowsher, who is believed to be being paid close to £700 an hour, was brought in just days after CH2M was named preferred bidder for the contract known as Phase 2B.
Mace is believed to be concerned that its bid was compromised because of the recent decision by HS2 Ltd, which is responsible for building the network, to appoint CH2M European managing director Mark Thurston as its new chief executive.
Thurston joined earlier this month and replaces interim Roy Hill, who was himself seconded to the client from CH2M and will return to the engineer next week.
CH2M had been due to be formally appointed to the work on February 24 – more than four weeks ago.
A HS2 spokesperson said: "We're in discussion with one of the bidders and will make a statement in due course."