Chair of influential committee of MPs says HS2 'scarcely worth the candle' without evidence to back up claims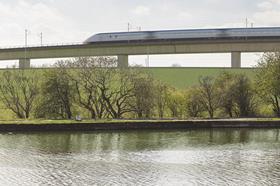 The chair of the influential Treasury select committee has questioned the economic case for the £55.7bn HS2 project and said the project is "scarcely worth the candle" without credible data.
In a letter to transport secretary Chris Grayling, select committee chair Andrew Tyrie criticised the government's latest economic business case published in November, which bumped up the projected benefit-to-cost ratio to £2.70 for ever £1 spent, up from £1.10 for every £1 spent stated previously.
Tyrie said without an explanation for this large increase "the business case suggests that HS2 is scarcely worth the candle."
He added: "So, the credibility of this sharp rise in forecast demand is crucial to the whole HS2 project."
According to the Department for Transport, one of the causes has been a much more rapid growth in passenger demand between 2011 and 2014 than predicted by HS2 Ltd.
Tyrie added that it is a "serious concern" the forecasting model used by HS2 Ltd "failed to provide a reasonably accurate prediction for 4 years' worth of growth."
The select committee chair has called on the transport secretary to provide evidence for the government's claim about the economic benefits.
Commenting on the correspondence, Tyrie said: "In the last Parliament, the Treasury Committee examined the proposals for HS2. A lack of rigour in the economic case was manifest.
"On the basis of the evidence provided so far, many people remain to be convinced that the £55bn projected costs for HS2 offers better value for money than a lower speed, lower cost alternative."