Railway has more than 1,300 employees
No staff working directly for HS2 have been put on furlough, the government minister responsible for the £100bn project has revealed.
Andrew Stephenson, who was named HS2 minister in February, has revealed that HS2 Ltd, the company responsible for building the railway, has not used the Coronavirus Job Retention Scheme. Stephenson was replying to a written question from Tory MP Fiona Bruce.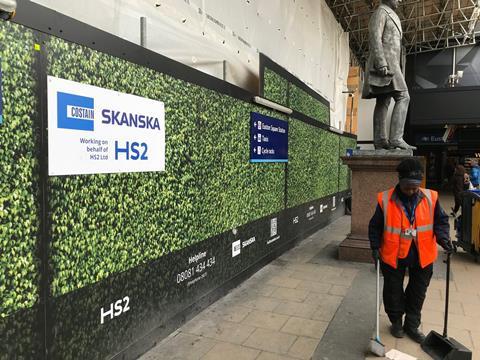 According to HS2's latest annual report, published in July, the number of direct employees at the firm in the year to March 2020 was 1,313.
Throughout lockdown HS2 has reached a number of key milestones, the most significant of which was the government giving the go-ahead for main construction works to begin back in April.
Last week, Boris Johnson officially launched the start of construction for the railway's £45bn first phase.
The announcement signalled that the project's main contractors are taking over from the firms carrying out enabling works, scheme design and preparatory work to allow for the full construction phase on the 225km phase one route.
But parts of the Euston station site are still at the enabling works stage, while there is still preparatory work to be done at Birmingham's £570m Curzon Street station before a main contractor is appointed in spring 2021.
Tunnelling at the Chiltern tunnels site is also not set to get underway until next spring.