Railway will hear in September whether challenge by Bechtel will stop it awarding job to Balfour Beatty team
HS2 will find out in September if it can hand a £1bn job to build its station at Old Oak Common to preferred bidder Balfour Beatty when a High Court judge will decide whether to lift a suspension blocking the firm from starting work.
The Balfour Beatty team, known as BBV and which also includes Vinci and French engineer Systra, landed the west London scheme in February – but the award was quickly challenged by one of the beaten bidders, Bechtel.
In papers filed at the Technology and Construction Court in March, the US giant said the procurement process was flawed and claimed Balfour Beatty's tender price was "abnormally low". Bechtel added it had incurred a projected loss of profit and revenue of £100m along with £3.5m of "wasted" bidding costs for the scheme known as Lot 2. Bechtel said it wanted an "order requiring the defendant [HS2 Ltd] to award the Lot 2 contract to [Bechtel]".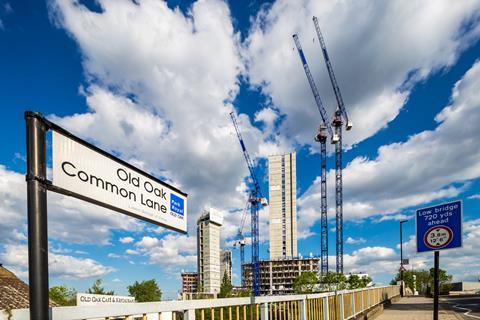 Its decision to challenge triggered an automatic suspension of the award, meaning HS2 could not sign the deal with the Balfour team.
Balfour Beatty has already gone public with its frustration, warning that delays on HS2 mean that "a large number of employees" it has taken on for work on the railway "will now either have to be redeployed […] or, where this is not possible, be made redundant".
A second court hearing to hear Bechtel's claims is not set to be heard until October 2020 and legal experts have warned HS2 faces a dilemma if the judge lifts the suspension at a hearing on 3 September.
Andrew Dean, director of public law at Clifford Chance, said: "The question then becomes more of a commercial point. Does HS2 Ltd proceed with entering into the contract knowing that the contract is still subject to legal proceedings?"
Another lawyer, who asked not to be named, told Building if the suspension was lifted: "HS2 [win and then they] race to sign [a] contract with BBV, [it's] boots on ground and work starts. HS2 have presumably done the numbers and calculated that delay risk is greater than being hit with damages and reputational damage from losing a court case."
But he added if the suspension was not lifted, HS2 could settle with Bechtel out of court or wait until October next year.
"If Bechtel triumphs, a court might order HS2 to re-run the procurement, in part or full, creating significant delays, or to award the contract to Bechtel. [But] BBV will not be happy and could counter-challenge possibly. Either way, no contract or work commences until late 2020."
Building understands HS2 is hoping to sign a deal with BBV in the wake of a successful hearing in order to get on with the job.
A HS2 spokesperson said: "We are confident the construction partner procurement process was robust, and we are seeking to sign contracts with Balfour Beatty/Vinci/Systra as soon as the court will allow."
Construction work on Old Oak Common had originally been expected to start by early 2020.
Vinci, Balfour Beatty and Bechtel declined to comment, while the Department for Transport, HS2's government sponsor and funder, had not responded at the time of going to press.