Pacadar UK to produce 58,000 seven-tonne segments for work starting at Euston
The team leading the construction of HS2's tunnels beneath central London has inked the first two contracts for the production of precast concrete segments.
SCS JV, a partnership between Skanska, Costain and Strabag, has signed up the UK subsidiary of Spanish concrete firm Pacadar.
The firm has recently completed 12km of tunnel segments for the Thames Tideway project.
HS2 did not disclose the value of the job but it is believed to be Pacadar UK's biggest ever contract.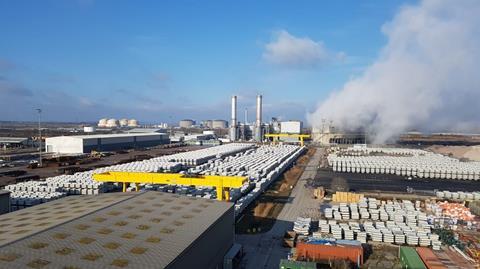 The firm's Kent factory will produce 58,000 individual concrete segments to line the 42km tunnels, which run from the railway's terminus at Euston station to West Ruislip on the outskirts of the capital.
Production will begin in January next year with the seven-tonne segments transported by rail to the tunnel launch site in West Ruislip.
They will then be installed in the 9.5m diameter tunnels by a pair of giant 2,600-tonne tunnel boring machines, which are set to launch in early 2022.
Over 160,000m3 of concrete will be used, with each complete ring made of seven segments and a key.
The tunnels, which will run up to 50m below ground, are split into two sections by the £1.1bn Old Oak Common station, which is being built by a JV between Balfour Beatty, Vinci and Systra.
SCS JV landed the job to build both sections on a pair of deals with a combined value of £2.3bn.