Government also provides update on railway's skills programmes
A ministerial task force set up to keep oversight of the £100bn HS2 project has met just once since the first phase of the project was given the go-ahead in February.
HS2 minister Andrew Stephenson told MPs the meeting took place at the end of April.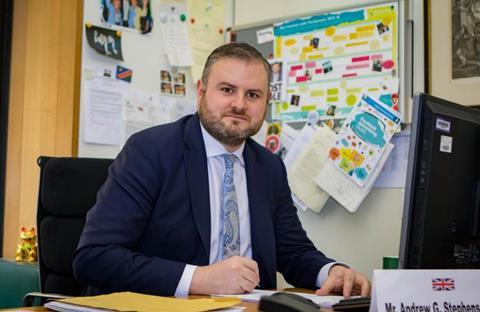 Group members include ministers from the Department for Transport, HM Treasury, the Ministry of Housing, Communities and Local Government and the Cabinet Office.
Stephenson added: "The chair, chief executive officer and chief financial officer from HS2 Ltd also attend, alongside officials and advisors from the represented government departments and the prime minister's office."
The comments came in an answer to a written question from Dame Cheryl Gillan – the Tory MP for Chesham and Amersham in the Chilterns which HS2 will run through.
A spokesperson for the Department for Transport said arrangements for the ministerial task force were not formally outlined until the government approved the HS2 phase one full business case on 15 April.
Stephenson (pictured) also provided an update on the National College for Advanced Transport and Infrastructure (NCATI) and other employer-led further education colleges.
He said: "Officials within DfT are working closely with their opposite numbers in DfE regarding NCATI. DfT are active members of the steering group overseeing the structure and prospects appraisal being led by DfE's further education commissioner to ensure its future model is sustainable."
He also provided a summary of the main activities HS2 and its supply chain have carried out to work with further education colleges on several employer and college-led initiatives and programmes.
| Name of college | Initiative | Additional Information |
| --- | --- | --- |
| Buckinghamshire College Group | CITB Construction Skills Fund | Eiffage-Kier, main works contractor, bid for and won CITB-funded training through a number of training providers including Buckinghamshire College Group from May 2019 to present. Benefitted 180 individuals to date: of those, 153 completed entry into construction programme, 15 completed qualifications in both Institute of Environmental Management & Assessment & Institute of Occupational Safety & Health, plus a further eight in IEMA and four in IOSH. |
| Buckinghamshire College Group | Careers Fairs | Eiffage-Kier and Align, Main Works Contractors, attended careers fairs to talk about career opportunities with young people between Feb 2018 – May 2019 |
| Derby College | Professional Construction Employers' Group / T-Level Taskforce | HS2 Ltd has been a member of the professional construction employers' group since September 2019, and on the T-Level taskforce since its inception in December 2019 to assist in development of the T-level in Construction: Design, Surveying and Planning. |
| Ealing, Hammersmith and West London College | Mayor's Construction Academy | The Mayor's Construction Academy is a London Mayoral initiative to deliver the skilled workforce needed to support London's housing and infrastructure needs. Ealing, Hammersmith and West London run one of the MCA Hubs that is responsible for co-ordinating the provision of relevant training. HS2 Ltd, Skanska Costain Strabag, Balfour Beatty Vinci Systra and Align sit on the employer and partnership boards of this MCA Hub to ensure that the training that is delivered and co-ordinated meets HS2's needs as far as possible. |
| Harrow College and Uxbridge College | Institute of Technology | HS2 Ltd, BBVS and Align sit on the Employer Advisory Board for the Institute of Technology delivered by Harrow College and Uxbridge College, in partnership with Brunel University. This has included supporting a number of activities including an apprenticeship fair and speed networking event at Uxbridge College as part of National Apprenticeship Week in February 2020. |
| Newham College | Strategic partnership with the National College for Advanced Transport and Infrastructure | HS2 Ltd, Costain Skanska, SCS Railways, Mace Dragados, BBVS and Align are in active discussions about how we can support Newham College, linked to their strategic partnership with the National College for Advanced Transport and Infrastructure. This includes the potential for specifically supporting the Institute of Technology they run in partnership with Queen Mary University. Other activities have been supported by HS2, such as an apprenticeship fair held at Newham College's Stratford campus as part of National Apprenticeship Week in February 2020. |
| Northampton College | | HS2 Ltd, Eiffage-Kier, and Flannery Plant Hire (tier 2 supplier) have worked collaboratively with Northampton College and there are plans to expand on this work in the future (e.g. virtual careers events) |
| Solihull Council | Careers & Apprenticeship Fair | HS2 Ltd promoted our apprenticeship and graduate opportunities at the Solihull College 2020 Careers & Apprenticeship Fair in March. |
| South & City College, Birmingham | Women into Construction Project | South & City College delivered the two-week employability training element of the Women into Construction project in May 2019. Following the two weeks employability training, participants then completed a four-week work placement on the HS2 programme. The project trained a total of 16 women that were previously not in employment. Eight women (50%) progressed into employment or further accredited training. The majority of the employment offers were within the HS2 supply chain. |
| Walsall College | Walsall Expo | HS2 Ltd joined our tier 1 main works civils contractor Balfour Beatty Vinci at the Walsall Expo in March 2020. Walsall Expo is held at Walsall College and organised by Walsall Works which is funded by Walsall Council to support local people to find jobs, apprenticeships and access training, while also supporting local businesses that are looking to expand and invest in their future workforce. Promoted a number of live opportunities including our apprenticeship and graduate opportunities. BBV were also able to promote their materials testing opportunities as well as other live vacancies. In total approximately 1,700 jobseekers attended the event. |
| Walsall College | T Levels | Balfour Beatty Vinci, main works contractor, is working with Walsall College to deliver their first T-level in Construction: Design, Surveying and Planning. |
| Warwickshire College Group | Rail and Construction Industry Day | HS2 Ltd main works civils contractors Balfour Beatty Vinci and Eiffage-Kier along with enabling works contractors Laing Murphy & Fusion attended the Warwickshire College Group Rail and Construction Industry day in March 2019. We provided information to college students on careers in the sector along with running workshops on Building Information modelling. |