The legislation to enable the high-speed line clears its second reading in parliament, despite some Tory opposition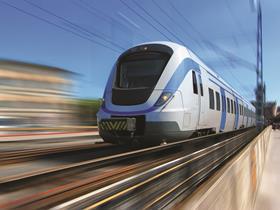 The bill enabling construction of the £43bn HS2 north-south rail link has passed the Commons with a vast majority.
The scheme cleared its second reading in parliament by 411 votes.
However, the coalition government faced some opposition from backbench Conservatives, with 26 Tories voting against the legislation.
Several ministers also missed the vote, in effect abstaining.
A wrecking amendment tabled by former Cabinet minister and HS2 opponent Cheryl Gillan was defeated by 451 votes to 50, with more than 30 Tories voting for the amendment.
During the debate preceding the vote, Patrick McLoughlin, the transport secretary, said he would not dismiss opponents of HS2 and promised a more generous compensation scheme for those whose properties are affected.
"I have made it clear to my officials that there is no place for talk of luddites or nimbys in the department or HS2 Ltd," he said. "We must respect people and try to help meet their concerns."