News follows PM's attempt to reassure infrastructure groups on future of railway's eastern leg to Leeds
HS2 has started the search for firms to supply switches and crossings for the railway's 280km route between London and Crewe.
The £156m job includes the design, manufacture and delivery of around 180 switches and crossings for phase 1 of the project between London and Birmingham and phase 2a from Birmingham to Crewe.
It will also include the option to extend the contract for further work on the phase 2b leg from Crewe to Manchester and maintenance depots.
HS2 said the switches and crossing will be a vital component of the line's track systems, allowing trains to operate safely at speed of up to 360km/h and diverging speeds of up to 230km/h.
A £260m contract for the railway's modular track system was awarded to a partnership including Porr UK and Aggregate Industries in October.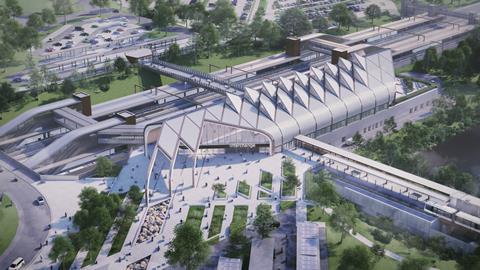 The tracks, which will be manufactured at a new factory new Shepton Mallet in Somerset, are set into concrete slabs instead of the ballast normally used for the UK rail network to reduce the amount of maintenance required.
The news of the launch of the procurement process for switches and crossings on the Birmingham to Crewe route follows recommendations by the National Infrastructure Commission (NIC) on Tuesday for the eastern leg of the line railway from Birmingham to Leeds to be given a lower priority.
The independent advisory body suggested the government should push ahead with the western side of the railway into Manchester, but delay completing the eastern side to Leeds.
But yesterday Boris Johnson responded to dismay from northern infrastructure lobby groups at the recommendations.
Speaking at prime minister's questions on Wednesday, Johnson said the government's "ambition" to build the eastern leg remains "absolutely unchanged".
He added: "What the NIC is saying is that there are other things we can do as well including massively improving the Midlands mainline and I think everybody will want to do that."
Transport for the North chief executive Barry White said that it would be a "bitter blow" if the route to Leeds did not go ahead.