Old Curzon Street Station will be worked into plan for railway's Birmingham terminus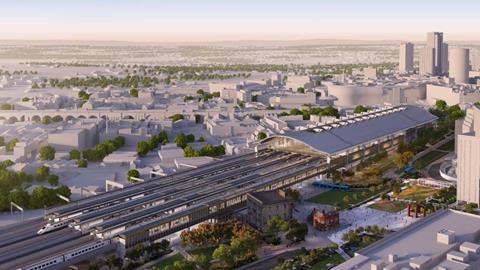 HS2 has started a major refurbishment project to restore the grade I-listed Old Curzon Street Station in Birmingham, one of the world's oldest surviving pieces of railway architecture, and turn it into a visitor centre.
Over the next 12 months a team will carry out restoration work on the iconic building, the first railway terminus serving the centre of Birmingham which was built in the early 19th century during a period of rapid urban development.
Having suffered extensive damage during the Blitz, and surviving two applications for its demolition in the 1970s, it has been on Historic England's heritage at risk register.
HS2 plans to use the refurbished station as a visitor centre, with additional space for offices, exhibitions and catering. It is being integrated into HS2's plans for the new Curzon Street station and will link to the new station's eastern concourse at New Canal Street.
The project will be carried out by KN Circet, which is working for HS2's enabling works contractor LMJV - a joint venture between Laing O'Rourke and J. Murphy & Sons.
KN Circet, trading as KN Network Services, has carried out other heritage transport restoration projects, including facade works at Lambeth North, South Kensington and Great Portland Street Underground stations, and Victoria Station and Waterloo Station for Network Rail.
The public space around the station will feature the historic track alignments of the former goods yard that used to lie to its east, and the gardens and new eastern concourse facade of the new Curzon Street station have been designed to complement the original the architecture.
Work on the old station building will include a new steel structural frame to strengthen it, a new lift giving access to all four levels, new glass balustrade for the historic staircase, internal fit-out, roof repairs, structural repairs to the external facade, and a full clean of the external building masonry.
The restoration the team includes local specialists with traditional skills including carpentry and stonemasonry.
The original building was designed by the architect Philip Hardwick and opened in 1838 as the Birmingham terminus for the London and Birmingham Railway Co. line that connected to London's Euston Station.