Current plans involves using 22 acres for parking space – but council says this should now be used for homes
Solihull council and local businesses have been told to fork out £100m if they want HS2 to build multi-storey car parks around their new station – instead of occupying 22 acres for surface parking.
Interchange Station in Solihull has been designed to give HS2 passengers access to nearby Birmingham Airport, Birmingham Business Park and the National Exhibition Centre.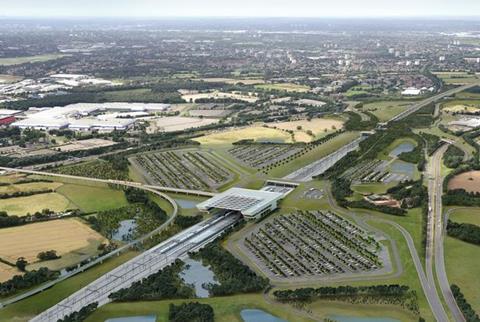 Plans to build 7,400 parking spaces all around the new station were included in the High Speed Rail (London – West Midlands) Act which received royal assent in 2017 and gave HS2 Ltd the powers to build the scheme.
But now locals think it is a waste of space, with Urban Growth Company (UGC), a special purpose vehicle made up of local businesses that has been established to "drive strategic growth" around the area's infrastructure, and the council calling for the plan to change.
UCG's development director, Philip Farrell, said his body and Solihull council asked HS2 whether it could build a multi-storey car parking in order to free up 22 acres of land – which they say could be home to 7,000 jobs and 1,500 homes.
But they have been told HS2 will go ahead with the surface car parking, unless they stump up around £100m.
Farrell, who previously worked as a director at JLL, said: "The problem we have had is that people who worked on getting the [parliamentary] Act ready were told by HS2: 'Let's just get the powers, and then we'll go about designing this properly.'
"But what goes in the Act actually matters, because then HS2 think they can actually build that.
"They're not prepared to spend any money whatsoever to engage in our growth agenda, so everything we want them to do, including new designs and even attending some meetings, we're having to pay them from the West Midlands Combined Authority (WMCA)."
An HS2 spokesperson said: "UGC are working in partnership with HS2 to develop plans to replace the 7,400 surface car park with multi-story car parking.
"This would release land in order to maximise the opportunities for commercial development at the UK Central Interchange site. The new HS2 station will act as a catalyst for the development and growth proposals for the area around the station – including new homes and jobs."
Building understands that as HS2 is only funded to deliver the phase one Act scheme and as this work is not included in that, an additional funding deal would be needed for a multi-storey car park to be built. HS2 has an agreement with WMCA so that any additional costs from works not specified in the Act can be recovered.
Farrell admitted that creating a business case to free up 22 acres of land in Solihull for £100m is "very difficult".
But he warned: "HS2 itself will be a failure if it's just a box in the middle of a field. It needs to be the heart of a new urban environment, then it will look like a success."