Transport secretary Grant Shapps quashes fears that north-eastern section of line could be scrapped
HS2's northern leg to Leeds will go ahead and could be built "dramatically" ahead of schedule, the government has said.
Transport secretary Grant Shapps allayed doubts about the line to Leeds yesterday and said the section of the £106bn line from Birmingham to the North-east could even be brought forward by "building it in a smarter way".
Work on the route's first phase from London to Birmingham is now well underway but, while royal assent has been granted for phase 2a from Birmingham to Crewe, it has not been granted for the two northern branches to Leeds and Manchester.
The government's chief infrastructure advisor, Infrastructure and Projects Authority chief executive Nick Smallwood, said this month that extensions north of Crewe should not go ahead unless there was a "very strong business case".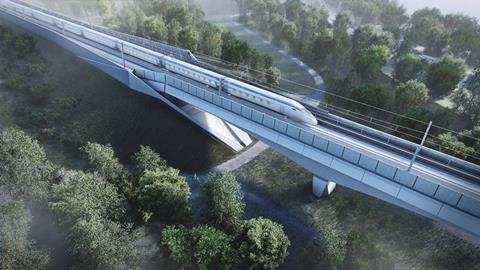 While the Queen's Speech said a bill to authorise the North-western leg to Manchester would be brought forward this year, there was no mention of the leg to Leeds, adding to speculation that this section could be mothballed.
However, speaking at a virtual event for the Policy Exchange think-tank, Shapps said: "We are going to complete HS2 and include HS2 on the eastern leg to Leeds."
He added that the benefits of the northern legs could be felt much sooner than his original expectation of 2040 or 2050. "We think we could bring that forward quite dramatically by building it in a smarter way," he added.
Shapps said that more details would be revealed in the government's long-awaited integrated rail plan, which is expected to be published in the next few weeks.
He added: "The only question that we have is how to better integrate [the eastern leg] with plans which were developed a very long way since HS2 was first dreamt up all those decades ago, and that pertains to the Northern Powerhouse Rail."
This week, the government announced over £400m in funding to upgrade rail infrastructure across the Midlands and north of England, with the bulk of the cash earmarked for the Transpennine route between Manchester, Leeds and York.