Ground engineering specialist working with McAlpine and Kier on tunnelling schemes in Chilterns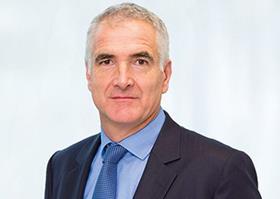 Keller has admitted that it has not counted its work on HS2 in its order book because it doesn't know whether the scheme will go ahead.
The firm, which is the world's largest geotechnical contractor with annual revenues of around £2bn, has been working on the central section of the London to Birmingham route.
It is working on the C1 tunnelling contract in the Chilterns with a team which includes Sir Robert McAlpine while it has been hired to carry out work on the C2 and C3 tunnels schemes, also in the Chilterns, for a team featuring Kier and French firm Eiffage.
But chief executive Alain Michaelis (pictured) said: "[HS2] is not in our order book, it's not been counted as sure business."
He said up to £1bn of ground engineering work was now hanging in the balance after new prime minister Boris Johnson said he was carrying out a review of the £56bn scheme.
This is due to report in the autumn and Michaelis added: "We could do with the uncertainty being removed."
Keller only carries out 3% of work in its home market with up to 60% of its business in North America where it has 60 offices and 4,000 staff.
The firm is rejigging this part of the business bringing its businesses under one Keller brand. Michaelis admitted some jobs would be lost but said there would be no "forced redundancies". He added: "Ultimately we will be hiring more staff here."
He said the firm has completed a restructuring which has seen up to 800 jobs from its global workforce of 10,000 axed – mainly in south-east Asia and Australia.
Earlier this week, the firm said turnover in the six months to June was flat at £1.1bn with pre-tax profit slumping 40% to £21.7m.