Architects, engineers and design specialist join group chaired by Sadie Morgan
Tate director Nicholas Serota, architect Glenn Howells, place making expert Les Sparks and former Foster's partner Alistair Lenczer are among the 45 names appointed to a design panel for the HS2 railway.
It is being chaired by dRMM co-founder Sadie Morgan (pictured) who had initially expected to lead a team of around 30 design experts.
But the number has increased by half with members of the team also forming part of regional design panels.
HS2 chief executive Simon Kirby said: "Members from this group will form part of the regional site-specific design panels, for example at Birmingham Curzon Street station so that the whole project benefits from the skills and expertise now available."
Other panel members include former John McAslan director Hiro Aso, who moved to Gensler over the summer to head up the US firm's regional transport and infrastructure division, AOC co-founder Daisy Froud, engineer Hanif Kara, specialist bridge architect Martin Knight who set up his eponymous practice back in 2006 after nine years at Wilkinson Eyre and Peter Maxwell, head of design London Legacy Development Corporation.
Also on the panel is OMA director Carol Patterson, Selina Mason, the director at LDA Design in charge of the UCL East campus masterplan at the Olympicopolis site in east London, the former chief executive of the Design Council when it merged with Cabe, David Kester, and Farrells partner Beatrix Young.
Morgan said: "Our aim is to mentor and inspire HS2 to design a transformational railway system which will exceed all of our expectations."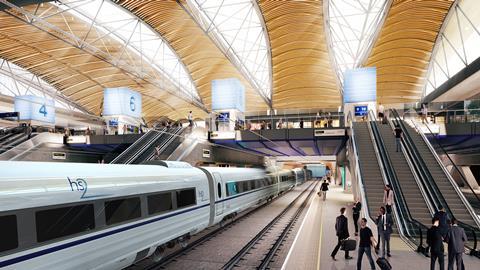 The panel will provide advice in a number of areas including urban, landscape, digital, brand and product. Last year Thomas Heatherwick was asked to help out in creating a set of design principles for the railway.
Kirby said the HS2 panel had been modelled on the panel that was set up for the 2012 Olympics. He added: "Success resulting from early implementation of a far-sighted design approach can be seen at London's Olympic Park, where design and development focused on the Games' legacy and the long-term development and sustainability of the site."
Construction work on the first phase of the £43 billion railway – between London Euston and Birmingham – is planned to start in 2017 and be completed by 2026. Grimshaw is working on a £2.25 billion plan to extend Euston station which will see up to 11 new platforms built in a bolt-on building to the west of the existing station.
The panel in full
Sadie Morgan, chair
Paul Appleby, design and masterplanning expert
Reuben Arnold, senior VP, marketing and customer experience Virgin Atlantic
Hiro Aso, Gensler transport head
David Bonnett, architect, specialising in accessible design
Adam Brown, co-founder of architect Landolt & Brown
Patricia Brown, director of city space consultant Central
Tony Burton, conservation specialist
James O'Callaghan, structural glass specialist
Caroline Cole, owner of design consultant Colander Associates
Annie Coombs, landscape architect
Nathalie de Vries, co-founder of Dutch architect MVRDV
Dan Epstein, director of design consultant Useful Simple Projects
Daisy Froud, co-founder AOC
Richard George, managing director of rail consultant Interfleet Technology
Johanna Gibbons, landscape architect
Clive Grinyer, customer experience director in design office of Barclays Bank
Tom Holbrook, co-founder 5th Studio
Glenn Howells, architect
Hanif Kara, engineer
David Kester, design consultant and former Design Council chief executive
Martin Knight, founder Knight Architects
Alister Kratt, director LDA Design
Alistair Lenczner, director Expedition Engineering and former Foster's partner
Mike Luddy, managing director Royal Docks
Selina Mason, director LDA Design
Peter Maxwell, head of design London Legacy Development Corporation
Kathryn Moore, International Federation of Landscape Architects president
Marie Bak Mortensen, head of exhibitions RIBA
Lucy Musgrave, founder of public realm consultant Publica
Greg Nugent, marketing guru and former chief marketing officer for the 2012 Olympics
Kevin Owens, co-founder Wilson Owens Owens Architects
Tina Paillet, head of UK and North America Generali Real Estate
Carol Patterson, OMA director
Luke Pearson, industrial designer
Sam Richards, head of urban integration at Crossrail
Jonathan Sands, chairman of brand design consultancy Elmwood
Ann Sawyer, architect and access consultant
Nicholas Serota, director of the Tate
Les Sparks, place making specialist and former director of planning and architecture at Birmingham council
Martin Stockley, engineer
Ben Terrett, group design director Co-Op
Raymond Turner, design specialist
Paul Watson, planner and urban design consultant
Simon Wright, Crossrail programme director
Beatrix Young, partner at Farrells