Safety body begins investigation into Alder Hey Children's Hospital following a series of accidents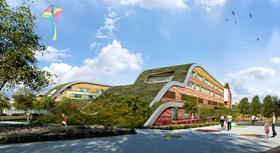 The Health & Safety Executive has launched an investigation into Laing O'Rourke's ongoing Alder Hey Children's Hospital project in Liverpool following a series of accidents in the past three weeks.
The HSE said it was investigating five incidents on the £167m project, which included one worker who suffered a crushed pelvis on the site.
Three of the incidents were of a type which must be reported to the HSE.
The launch of HSE's investigation also follows complaints about the site raised by trade union Ucatt.
Last month, Ucatt general secretary Steve Murphy told the Scottish Affairs select committee that Ucatt had been barred from accessing the site, adding that this had contributed to safety problems.
Liverpool mayor Joe Anderson and Labour MP for Liverpool West Derby, Stephen Twigg, have also expressed their concerns, writing a joint letter last month to Laing O'Rourke following Ucatt's claims.
Laing O'Rourke has agreed to meet with the two politicians but has rejected Ucatt's allegations. Chief executive Anna Stewart wrote a three page letter to Twigg, other MPs and the mayor's office last week strongly denying it is anti-union or anti-safety, adding that workplace safety is the firm's "overriding priority".
Andy Fisher, regional secretary for Ucatt's North West region, told the BBC: "This is clearly a very unhappy site which has now got serious safety issues."
But Anna Stewart said: "Laing O'Rourke's overriding priority is the safety and welfare of our workforce.
"Given this ambition it is with regret that we confirm that recently there have been three reportable incidents on the Alder Hey in the Park project in which three employees sustained injuries, none of which were life-threatening."
She added: "To suggest that the lack of union safety representatives could be a factor is untrue."
Stewart also pointed to the firm's good record of employing workers directly. And she claimed that union safety reps do not have the "technical understanding" to improve safety on Laing O'Rourke sites or get involved in initial safety inductions workers have.
She said: "Whist a union appointed safety representative who visits the site periodically can certainly help to promote the importance of safety on site, we do not believe it will add anything beyond our existing extensive approach. Furthermore, they do not possess the technical understanding of our unique delivery approach to fully comprehend and be able to mitigate the safety risks on our projects - therefore we simply cannot countenance their involvement in this critcal element of our inductions."
Ucatt's Steve Murphy said: "We welcome the HSE's decision to investigate our safety concerns at Alder Hey. However this is retrospective action and we want to prevent accidents occurring in the first place. To achieve this it is vital that workers are engaged in their own safety with the appointment of site based Ucatt health and safety reps.
"I requested a meeting with Laing O'Rourke last autumn to no avail. I would welcome a meeting to try to resolve our safety concerns and the ongoing industrial relations matters."
Stephen Twigg MP said: "I note with some concern that HSE have decided to launch an investigation into five recent incidents on the Alder Hey Site. My priority is that the hospital is built safely and on time. I am pleased that Laing have agreed to meet with me and the Mayor of Liverpool to discuss the current situation and look forward to an open dialogue with them to include Ucatt."