Engineering firm's chairman says it is on course for profit growth in recovering market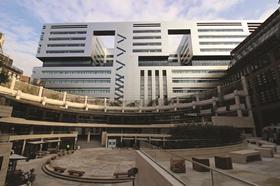 Building services engineer Hurley Palmer Flatt has set an ambition to double turnover in order to take advantage of the rising construction market, as it reports 2015 results showing rising pre-tax profit.
Annual results for Hurley Palmer Flatt Group show the firm made a pre-tax profit of £409,209 on revenue of £24.6m in the year to March 2015, recovering from a pre-tax loss in its 2014 results which were affected by a goodwill write-down.
Chairman and chief executive Paul Flatt said the firm was on course to grow turnover by between 10-20% by the time of next year's results, and was ultimately looking to take the business to £50m turnover.
The results show payroll staff numbers at the firm grew in the year to March 2015 by 22%, to 157, with Flatt saying the growth in contract staff far exceeded that, with growth of 30-40%. Part of the growth in staff was due to the acquisition of building services commissioning expert Andrew Reid & Partners in the year, which the accounts showed was acquired for a figure of £834k.
Flatt said: "We expect to see 10-20% growth in 2016 in revenue, with the ambition that will flow through to a similar level of profit growth."
HPF, which gets 80% of revenues from mechanical, electrical, and plumbing services design work and works on schemes including UBS's Broadgate development, competes with big multidisciplinary practices such as Aecom, WSP and Arup, as well as similar sized specialists such as Cundall and Hoare Lea.
"Our ambition is to hold our position as the dominant player in the mid-market. We want to get the business up to £50m [turnover] and hold that space. I'm not saying it'll be in six months' time - we want steady sustainable growth," Flatt said.
HPF's 2015 results are the first 12-month accounts it has filed at Companies House since those for the year to March 2012, because of changes to its year end date, made as part of a restructuring deal done in October 2013.
However, financial information provided by the group directly to Building showed this year's profit compared to a pre-tax loss of £3.7m in the 12 months to March 2014.
That figure was impacted by a large goodwill write-down of £2.6m and other costs related to the buying back of a minority stake in the firm from a private equity company, as well as interest payments of £1.2m. The interest payments reduced
in the most recent accounts to just £669k following the financial restructuring.
HPF reported profitable Ebitda throughout the period since 2012, with Ebitda rising to £2m in the year to March 2015 from £1.1m in the previous 12 months.
In 2014 Paul Flatt said: "The pre-tax loss figures reported in the group accounts are not connected with the day to day trading but are to do with the mechanics of writing off goodwill in the minority stake buy back returning the company independent."