Retail giant's property arm gains approval for 'Strand East' scheme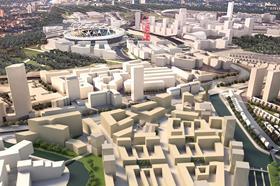 IKEA's property arm has won planning approval for a 26-acre regeneration scheme in Stratford, east London.
The Arc-ML-designed scheme, which sits alongside the London 2012 Olympic Park, includes 1,200 homes, 620,000 sq ft of offices and retail and leisure facilities.
London Thames Gateway Development Corporation's planning committee gave unanimous approval of the plans on July 12.
Work has already begun on the north east corner of the site, named Dane's Yard, which will house commercial units and which already has planning permission.
The scheme's developer is LandProp, a subsidiary of IKEA's property division Inter IKEA.
Andrew Cobden, LandProp country manager for the UK said: "We are thrilled with this result.
"The unanimous decision to grant planning permission pays tribute to the collaboration between LandProp, our design team and LTGDC and Newham over the past 18 months. With this strong endorsement LandProp looks forward to making these plans a reality and continuing to work closely with all the key stakeholders."